The global health crisis has changed the game for remote patient monitoring. As health systems turn to digital patient engagement to enhance care delivery, telehealth, and remote patient monitoring (RPM) services are emerging as clear winners. The telehealth market will continue to grow at an estimated 40% CAGR through 2025, while the RPM market is forecasted to double in the same period. What's driving this trend?
Several factors are at play here. The Centers for Medicare and Medical Services (CMS) began reimbursing for RPM in 2019 and has waived specific telehealth regulations. In the wake of the pandemic, the CMS has further expanded the scope for remote patient monitoring reimbursement. The Food and Drug Administration (FDA) has also expedited digital device approvals. But most importantly, the need to provide quality care while decreasing in-person visits is fast-tracking the adoption of telehealth and remote patient monitoring.
Why is RPM a compelling proposition for cardiology?
An aging population is leading to a growing chronic disease burden. The Centers for Disease Control and Prevention (CDC) estimates that about 50% of all adults in the US have one or two chronic diseases and that 25% have two or more. As people live longer, they will need considerable healthcare support in managing their chronic conditions, such as heart disease, over the long-term.
According to CDC, heart disease is the leading cause of death for men, women, and people of most racial and ethnic groups in the United States, resulting in a death every 36 seconds. The chronic nature of heart diseases and the lifestyle changes required to manage the condition make it difficult to control the disease. In many cases, the disease has usually decompensated to a life-threatening level by the time patients develop symptoms. The pandemic has further compounded the situation. COVID-19 patients with underlying cardiovascular conditions suffer higher mortality than others, while survivors face long-term cardiovascular health implications. Studies show that up to 20% of patients with COVID-19 may suffer heart injury due to inflammation from the coronavirus infection.
Simultaneously, digitally savvy generations are turning to mobile and remote devices to interact with their Healthcare Providers, just as they do for their banking or retail needs. Rapid advancements in technology is making it possible for patients and Providers to exchange large amounts of data in real time.
The changing consumer trends combined with the unique demands of cardiac specialty and the increased need for virtual care make remote patient monitoring a compelling use case – not only in the COVID era but also beyond. It provides early warning indicators to proactively identify at risk-patients through non-invasive monitoring devices in long-term and post-acute care settings. These include chronic cardiovascular diseases such as Chronic Obstructive Pulmonary Disease (COPD), Congestive Heart Failure (CHF), Coronary Artery Disease (CAD), and vascular disease.
A remote patient monitoring solution uses digitally connected non-invasive devices such as blood pressure monitors and pulse-oximeter to monitor patients' condition and symptoms. The platform assimilates patient-generated data from simple wireless sensors using a mobile app. It then uses analytics (built into a web-based care-coordinator dashboard) to correlate the data with various clinical and lifestyle factors. Finally, using the embedded telehealth component, it provides education and feedback to patients using the expanded clinical data. The digital engagement platform improves care coordination, enhances care plan adherence, and delivers superior patient engagement, leading to better population health outcomes.
Not all solutions are created equal
While remote patient monitoring solutions have shown to reduce heart failure admissions and lower all-cause mortality, not all solutions are built around patients. Successful remote patient monitoring platforms incorporate alerts and necessary mechanisms for appropriate response, along with the ability to integrate with established clinical workflows.
Here's a 9-point checklist to help you identify the best-fit remote patient monitoring platform:
Does it integrate with our existing EMR to deliver a holistic, interoperable solution?
Does it provide real-time alerts and actionable insights for clinical decision support and patient education?
Does it automate data transmission to the platform to minimize patient intervention?
Does it facilitate better communication between care team members (including family members) and delegation of tasks?
Are risk stratification tools built into the system so care teams can assign the right resources to high-risk patients?
Does it support HIPAA compliant patient communication mechanisms, including secure chat and video conferencing?
Does it allow multiple healthcare professionals to simultaneously access and analyze patient data?
Are analytical dashboards available to support teams on mobile devices for rapid triaging?
Does the patient-facing app incorporate rich features to enhance user engagement, experience, and care plan adherence?
Moving away from episodic, high touch care
Barriers to remote patient monitoring adoption are melting away. Consumers are rapidly embracing remote patient monitoring devices for chronic care management. The global market for wearable cardiac devices is likely to cross $6.2 Bn by 2026. Partnering with remote patient monitoring companies, as part of a holistic patient engagement strategy, can help Healthcare Providers, Health Plans and Health Systems significantly raise the bar for cardiac care.
Featured Resource
Download our whitepaper 'Intelligent Automation for Health Plans: The Perfect Antidote for Post-pandemic Challenges'. The paper highlights the challenges confronting Health Plans in the post-COVID era and how Intelligent Automation can create sustainable efficiencies in the new normal.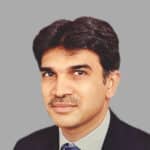 Deepan Vashi is SVP and Head of Solutions for Health Plans and Healthcare Services (HPHS) at Firstsource. Deepan is focused on creating Digital First solutions, via designing superfluid processes and delivering transformational initiatives collaborating with customers and partners. Deepan plays a key role with Analyst Relations and strategy at Firstsource.