Global business process outsourcing (BPO) organization Firstsource is focusing on leveraging technology solutions to deliver industry-leading customer experience (CX). Rajiv Malhotra, Firstsource Head of Europe, talks to Business Chief about how digital innovation is transforming how companies interact with their customers.
With more than 20 years of IT and BPO experience across financial services, insurance, retail and logistics, and healthcare and media, Rajiv has experienced first-hand the importance of combining BPO operations and technology.
The traditional role of a BPO partner as purely a provider of call centres is changing. Delivering a first-class CX journey has become paramount for companies that are presiding over an increasingly transient consumer base.
Macro-economic factors, such as spiralling interest rates and the ongoing cost of living crisis, mean organisations from retail banks to telco providers have to work harder to attract and retain customers. This is where digitally-savvy outsourcing partners are worth their weight in gold.
Rajiv explains: "Every industry is going through a very difficult life cycle at the moment. In financial services, mortgage rates are going up and there are still recession concerns. Customers are being very conscious in terms of 'let's wait and watch'.
"This means banks are seeing volumes drying up a little bit, which is impacting traditional growth from a BPO perspective in that market."
Reflecting on the state of the communication, media and telco market, Rajiv adds: "That whole sector is seeing a very different disruption with the cost of living crisis meaning that people are actually not subscribing the way they used to.
"They are removing add-ons, they're trying to renegotiate contracts, which is impacting EBITDA and revenue. This is leading to conversations about redefining the overall estate, whether that's the UK, nearshore or offshore."
It is against this backdrop of uncertainty that companies from across multiple industries are now looking to BPO providers to offer solutions that will resonate with their customers. In most cases, the answer lies in digital adoption.
A human-centric approach underpinned by tech is the way forward
The old adage that 'people buy people' applies regardless of whether you are trying to sell a multi-million pound contract or a simple subscription renewal. However, the application of technology designed to boost CX results is often crucial in sealing the deal on a BPO proposition.
Whereas in the past large organisations would predominantly outsource business processes as a means of cutting costs, companies are now waking up to BPO providers' digital offerings. These include customised industry solutions and major advances in technology, such as artificial intelligence (AI), analytics, and machine learning.
Indeed, a report last year by global management consultancy McKinsey shows a growing appetite for digital BPO solutions.
Analysis of total contract value (TCV) from 2016 to 2020 found that digital services grew from 30% to 70% of TCV, while the number of new deals with a digital element increased to almost 50%.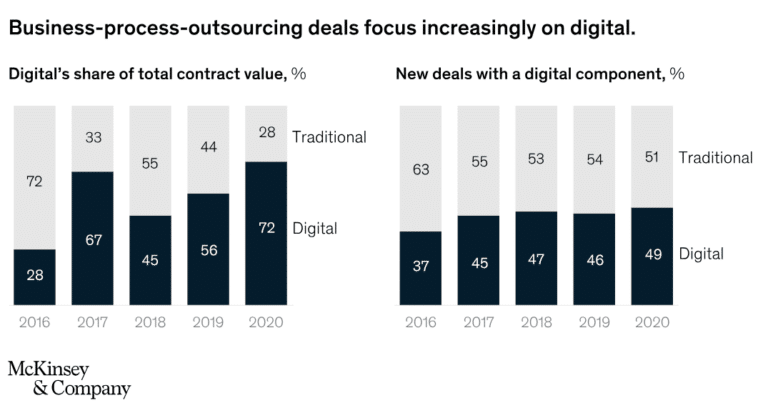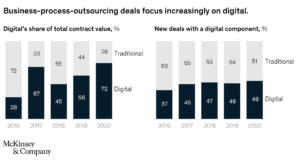 The providers that have been able to pivot their traditional proposition to accommodate a wider tech offering are the ones who will typically achieve higher growth. However, Rajiv argues that in order to enjoy long-term success it is important to strike the right balance between 'human' and 'tech'.
He says: "The traditional BPO business is essentially people manning the phones, talking to customers, which is a very traditional way of operating. While you definitely need the human element it's very important that you modernise the overall contact centre operation by infusing and integrating technology."
By aligning operations and tech, BPO providers like Firstsource are able to deliver far superior CX outcomes.
AI is a 'turbo boost' for contact centres
AI has fast become a marmite issue in terms of the potential risks and opportunities it brings. In certain quarters it's viewed as a threat to jobs, elsewhere it's seen as a game changer for companies looking to scale up their CX offering.
Of course, AI is not new for the BPO industry. Digital initiatives to upgrade chatbots and other tools assisting call centre agents have been around for years, but it's only recently that the full potential of the technology has started to be realised.
"This is not an impact to jobs and humans in the BPO industry," says Rajiv. "This has to be looked at as something that will turbo boost the entire contact centre.
"It's all about what are you giving humans in the form of generative AI to really provide a much better customer experience."
The benefits of embracing AI within the BPO industry are numerous. Increased efficiency is one obvious benefit as AI can automate many of the repetitive and time-consuming tasks previously performed by humans.
Perhaps less apparent is the competitive advantage gained by early adopters of AI. First movers can get ahead of their rivals in the CX race by offering more efficient and personalised services that will appeal to clients and consumers alike.
Don't forget the vital human aspect
Cutting-edge technology without a human touch doesn't amount to whole lot, especially when CX is the name of the game.
Firstsource operates nine contact centres across the UK and it is the 5,000 employees supporting clients across banking, utilities and energy, telco, and many other industries that are the heartbeat of the operation.
Just as important as the application of digital innovation is the presence of diversity in the fabric of a BPO provider.  It's an issue that is close to Rajiv's heart and one he recently spoke out on during a roundtable event at 10 Downing Street.
"Whatever line of work you have, the most important skill is arguably your ability to relate to other people," he says. "Leaders, this means not assuming that everyone is the same as you, with the same ambitions or values. You've got to see it from the individual's perspective."
He adds: "As a global company, with an energetic, vibrant team, I see the impact of a commitment to diversity first hand. It's not just about 'doing the right thing', but making the link to increased wellbeing, equal opportunity and productivity."
Read the article as it was originally published in Business Chief here: https://businesschief.eu/digital-strategy/firstsource-head-of-europe-on-tech-ai-adoption