The challenge: Scaling merchant onboarding and engagement
A global e-commerce leader was looking to scale merchant onboarding and empower merchants to succeed on their platform — having a strong ecosystem of merchants was critical to their growth strategy. The current process was lengthy and resource-intensive.
Since, only a third of the country's retailers currently had a presence on the e-commerce giant's platform, they sought a Managed Services Provider who could become its largest partner in driving merchant growth on its platform. The goals were to attract high-value merchants, keep an active merchant pipeline and maximize gross merchandize sale value of acquired merchants.
The solution: Harnessing a hybrid model
We provide an end-to-end solution for merchant onboarding, spanning lead generation, seller launch and post-launch engagement:
Lead generation – Identify potential sellers through secondary research, business listings, industry-specific databases, social media, referrals, and outbound calling – to build a healthy pipeline.
Seller launch – Ensure lead quality through predictive analytics, register sellers, and upload their product listings using an integrated digital portal.
Post-launch engagement – Track seller performance to maximize merchandise sale value, drive sponsored product and coupon adoption, order management, boost sales conversation, and merchant training, relationship management and support.
Mapping analytics interventions to seller operations lifecycle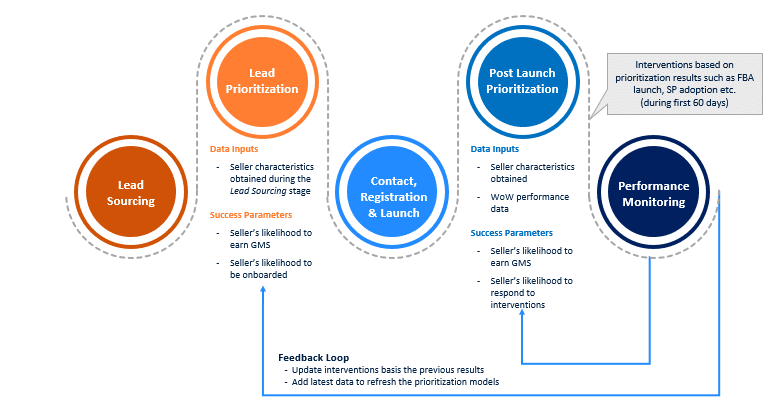 The solution runs on i-Leverage, a CRM platform which combines multiple digital channels such as voice, email, chat, self-service, and AI bots, with an Intelligent Unified Desktop for customer service associates. With Artificial Intelligence (AI) and Machine Learning (ML) at its core, it provides predictive and analytical capabilities for intelligent customer servicing and engagement across channels.
At the outset, we conducted a primary and secondary market research through on-ground and online channels to identify sellers. An integrated digital portal was created to seamlessly connect front and back-office processes with automated seller compliance check and registration through OCR. A dedicated account management team was set up for seller support and performance improvement. Predictive analytics were used at each stage of seller lifecycle to nurture high value merchants based on 12 attributes and accelerate merchant onboarding.
The result: Improving outcomes across the merchant experience lifecycle
Results included:
300 sellers launched in a quarter, of which 15% were high-value merchants
Lead to conversion ratio improved by 40%
50% reduction in merchant onboarding cycle-time.
>90% merchant support satisfaction rate.
The next phase of the seller affiliate program will include Analytical models to help seller qualification framework and better lead sourcing. AI-powered operations will help achieve 100% digitally enabled merchant onboarding.