The Covid-19 pandemic rocked the education industry. 91 percent of learners suddenly moved online. Teachers were forced to use Zoom and Google Meet to communicate with students. While teachers and students managed to muddle through, student peers suffered from a lack of interaction. The physical classroom and lab environments were practically nonexistent. In the near future, the Metaverse stands to change that.
What is the Metaverse?
The Metaverse is a futuristic 3D virtual world that users experience through virtual reality (VR) and augmented reality (AR)-based headsets. Although there are similarities to AR, VR and it is considered as the next generation of Second Life – the sheer scale, connectivity and interoperability of the Metaverse is what makes it different. With social networks and user generated content where one can have one's avatar and buy and sell using crypto currency.
The transformational effect of the Metaverse movement on social connections is already evident, and global sales of AR/VR headsets has grown 56% from 2017 to 2021, reaching $2.6 billion last year. (Euromonitor 17/1/22). Organizations and even nations will invest in their Metaverse strategy. South Korea, for instance, already has a five-year plan to recreate its public services and cultural events in the Metaverse.
Explore our podcast about Transforming Digital Education
5 ways the Metaverse is poised to change learning
1. Virtual Campus
Learning is already moving beyond the four walls of the classroom, becoming interdisciplinary and application based. The Metaverse now brings in the possibility of virtual campus life where learners can virtually experience the School or University environment.
This also opens up the opportunity of greater access to high quality education for learners regardless of location. For example, the opening of the Kenya-KAIST virtual campus 60 km from the capital city Nairobi in September 2023 will allow the institution to extend their reach across continents, bringing students together in a 'Metaverse' without them leaving their home country.
2. Holistic, boundless learning
There is a greater focus on breaking the boundaries between subjects and supporting interdisciplinary learning. Schools are promoting project based learning – which involves application oriented learning and a convergence of multiple disciplines.
In the 3D Metaverse students will experience the culture, history and geography of a place while trying to solve a mathematical problem, for instance. The environment will be constantly updated with user-generated worlds that inter-connect and provide students with enhanced platforms for deriving deeper meaning and problem solving like never before.
3. Learner centered, constructivist learning
Learning is becoming more about how learners want to learn – with contexts that they can relate to and build upon. The goal of 21st century learning is to empower students to be innovators in a constantly changing world.
Metaverse will allow learners to create their own avatar and travel seamlessly from one platform to another. Every aspect of the journey will bring in a new learning possibility, and the freedom to learn and experiment without any boundaries. Students for instance may be able to contribute to far reaching project aligned with the world agenda. For instance, it may catalyze connections with leaders and scientists to participate in projects linked to the sustainable development goals in the Metaverse.
4. Changing role of a teacher
Teaching and learning already extends well beyond the classroom, and as education becomes more learner driven, data oriented, the role of a teacher should also adapt and grow. It is each educator's responsibility to empower students to take risks, be innovative and become autonomous, lifelong learners.
In light of a shift towards a more personalized learner experience, teachers of the future must be prepared to be data collectors, as well as analysts, planners, collaborators, curriculum experts, problem-solvers and researchers.
Metaverse includes the possibility of user-generated worlds where teachers can curate or even create experiential learning environments and collaboratively conduct research with their students. Possibilities exist for designing formative assessments, and measurement and evaluation of the effectiveness of informal learning in this virtual world.
5. Multiple choice options for learning
The Metaverse enables the democratization of learning and empowers learners to choose their own pathways and design their own degree. Students can select from a buffet of learning possibilities They can choose to learn different subjects from their own institution or even from different institutions and earn credits. This prepares them for the unique roles that are emerging in the changing world of work.
Metaverse can provide a world of learning opportunities for students and access to Ivy League education from their homes. As more companies build their presence on the Metaverse, students will have access to application-based learning through internships in the Metaverse environment.
Metaverse is a boundless world and the possibilities are endless
As VR and AR headsets get more natural and easier to wear, environments get more realistic and technology evolves, the experience will become more natural and seamless. Today's generation of learners are already natives to the early Metaverse as some 140 million players worldwide have played games like Minecraft and over 350 million have played Fortnite. The possibilities that the Metaverse opens up for engaging, gamified, collaborative and task-oriented virtual learning make it a natural fit for the future classroom.
However, the success of the Metaverse, is not really about the technology, but about how many people adopt the idea of virtual experiences and participate in Metaverse concepts. The Metaverse is a huge opportunity for educators and education technology providers to identify the best use-cases for experiential learning and create more immersive, personalized experiences for their learners in the Metaverse.
The Metaverse has the potential to usher in the next generation of learning and can become a pivotal element in the learning ecosystem – as it impacts content creation and consumption.
To learn more about our solutions in the EdTech space click here.
Tij Nerurkar

Global Head - EdTech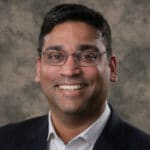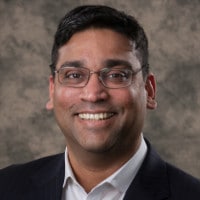 Tij has over 25 years of experience in managing learning services globally for Higher Ed Institutions, Education Publishers and Enterprises across multiple sectors. He has led the global education business for Cognizant and Tata Interactive and managed Cognizant's Learning Academy in North America.
Manisha Mohan

Advisor - EdTech, Firstsource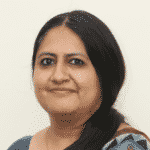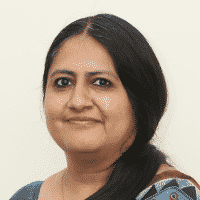 Manisha is Dean — School of Design, University of Petroleum and Energy Studies (UPES) Dehradun and a graduate of the National Institute of Design (NID), Ahmedabad. Manisha was earlier working as EVP — Design & Innovation at Tata Interactive Systems (TIS), Mumbai. The projects she has been involved in, have won several international awards for innovation and design