The traditional physician credentialing process is long and arduous, taking anywhere between 60 to 90 days, given the level of diligence required when appointing front-line healthcare service providers. Reviewing lengthy applications, conducting background checks, validating licenses and certifications, cross-checking peer references – all of it takes time but is critical to maintaining quality and managing risk. Providers incur a whopping $7000 per application, in addition to 20 hours of administrative time.1
And, if the credentialing team members encounter missing or incorrect information, they will need to conduct additional outreach, increasing costs and extending the timelines further.
While the long cycle time posed significant challenges even prior to the pandemic, the need to rapidly onboard credentialed physicians in its wake has created a sense of urgency around automating the process.
Manual vs automated credentialing: Striking the right balance
Manual credentialing verification requires the support of a dedicated full-time credentialing team – filling out hundreds of pages of paperwork, chasing down people for signatures, reaching out to various organizations for information, faxing data to other institutions, and so on (see Figure 1). Relying on outdated credentialing software and archaic systems that rely on Excel sheets, post-it notes, and filing cabinets, creates major impediments to healthcare organizations' ability to cater to changing patient needs and grow revenues. All the more so when patient expectations for accessible and quality care are growing by the day, even as COVID continues to impact the healthcare industry in unprecedented ways.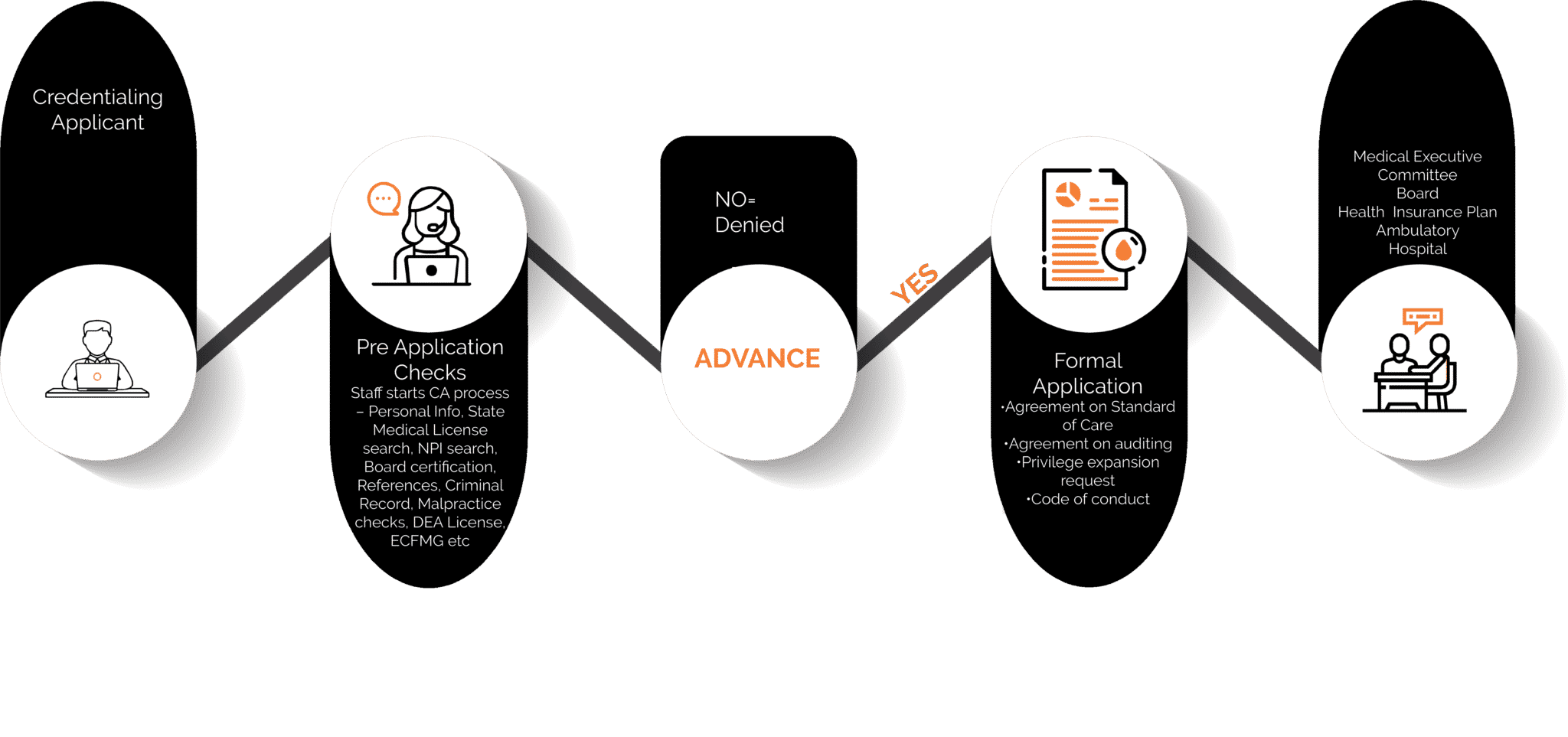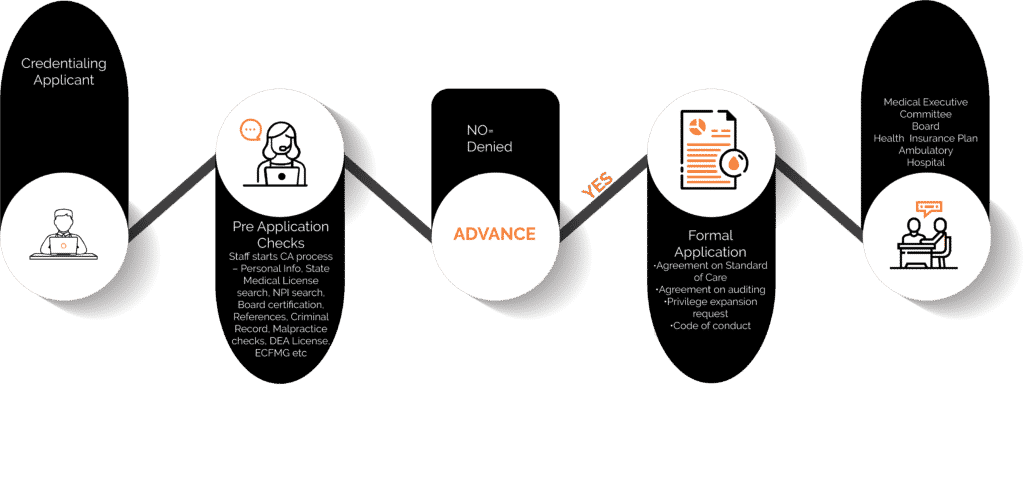 Figure 1: Manual credentialing
What Providers need is an automated credentialing platform – one that leverages bots and intelligent workflows to check physician information against pre-existing data available on websites and other systems for verification of information – without manual intervention. This eliminates the friction in the process considerably and accelerates it – all while ensuring compliance (see Figure 2).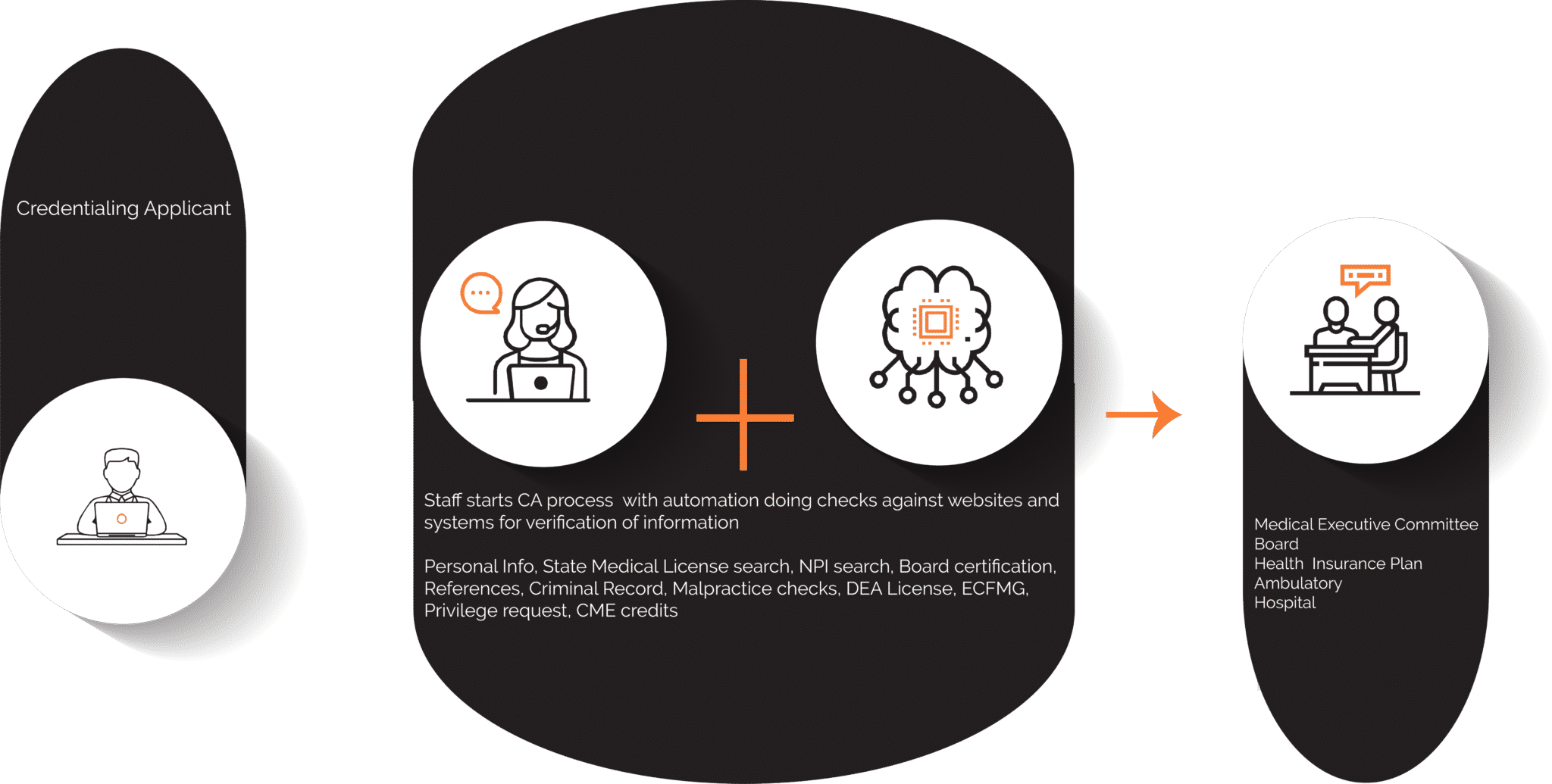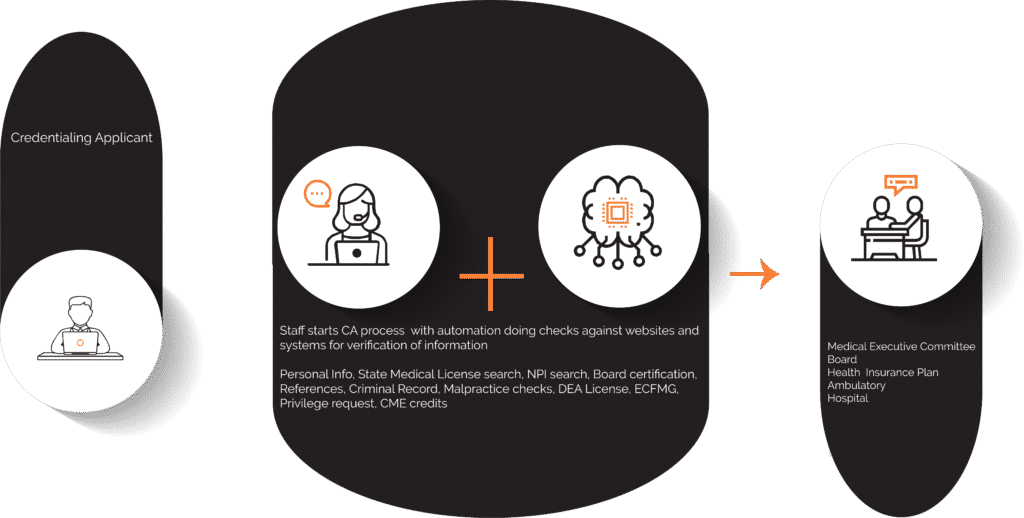 Figure 2: Automated credentialing
However, given the complexity of the process, it may not be possible to automate the end-to-end verification of physician credentials. Some processes such as gathering diplomas from medical schools, validating continuing medical education credits (CME) credits, and other certifications from accredited institutions might still require human intervention. This means Providers must look to create the right balance between Intelligent Automation and the human touch. It's equally important to periodically assess the process to identify gaps and drive continuous improvement to optimize return on investment.
Integrating automation with the human element
Optimizing the mix of automation and human processing offers substantial advantages over a completely manual credentialing process.
Significant reduction in time, effort, and costs: Improved coordination and reduced need for manual verification with primary sources leads to lower errors, enhanced productivity, and optimized costs.
Rapid turnaround: Ready availability of updated information for submission to multiple institutions and Health Plans and automated checking results in an accelerated application submission process.
Enhanced physician experience: Decreased onboarding time and involvement on the part of physicians improves experience and satisfaction.
Rigorous compliance: The ability to maintain accurate information trails and audit any point in the value chain ensures stringent compliance.
According to the Everest Group, more than 100 data checks in the physician credentialing process can be automated prior to review by human workers, slashing hundreds of hours of human effort.
Now's the time to jump on automation
As the focus in the healthcare industry shifts to value-based services, Providers are looking to identify right-fit automation opportunities across the Revenue Cycle Management (RCM) chain to drive competitive advantage. With the healthcare landscape evolving rapidly in the post-COVID era, credential process automation drives agility and quality assurance while mitigating risks. It ensures that the most qualified and experienced healthcare professionals are rapidly onboarded in a compliant manner, enhancing reimbursement rates and timely payments for services rendered.
Driven by the increased adoption of Artificial Intelligence (AI), the global healthcare IT market, valued at $187 billion in 2019, is predicted to grow at over 15.6% compound annual growth rate (CAGR) between 2020 and 2026 – reaching $535.6 billion.3
Intelligent Automation is Robotic Process Automation (RPA) powered by Artificial Intelligence(AI) and cognitive technologies. It can help achieve exceptional accuracy and efficiency in data management while improving patience experience. Intelligent Automation can also bring down the cost of operations significantly resulting in faster revenue recognition.