Sanjiv Goenka and his 'quest'
We had last seen him dance up a storm at son Shashwat's baraat in end-January. On Wednesday afternoon, we met a very different Sanjiv Goenka. This time for an hour-long adda after unveiling an installation on Quest's fifth floor.
The installation is looking good! What is the idea behind it?
I think the whole idea is to upgrade the property constantly and keep doing features which are permanent, which sort of add value to Quest and something that will stand the test of time. It's all about icons and inspirations. It took about eight months and another six months before that to conceptualise it. Rabindranath Tagore, Mother Teresa, Amartya Sen and Satyajit Ray are people from Bengal who have got worldwide acclaim. They inspire different people in different aspects of life. When foreigners come, when people from other cities come, they see it…. For an installation like this, it is an indirect offering. It's psychologically taking your consumer to a different position point. It's about the ambience and the feel.
Why this space (near Yauatcha) for the installation?
This is the place where you have huge amount of footfalls on a regular basis. You have all the restaurants here. There are not that many positions in the whole property which gives us this kind of depth. We have those Paresh Maity sculptures at the entrance. That again has Calcutta icons. There will be more as you go along… there will be more art.
Quest is just one part of your bouquet, but every time you walk through what do you feel?
I think it gives a sense of satisfaction. It was a difficult call at a period when people were not giving Calcutta and Bengal hope and certainly not giving luxury in Calcutta hope. The call has paid off. I think there is a 20 per cent growth on a year-on-year basis in Quest revenues. I think that's a very healthy thing. Last month we crossed a million footfalls… close to a million? [Turns to Sanjeev Mehra of Quest. 'Sir, we were averaging 9,50,000 in February'.]
In February a) it's less number of days, b) it's examination time and c) it's budget time… so people are also not spending that much. So, I think that is a reflection of the growing popularity of Quest. It's no longer about the novelty factor. It's about people who have come here umpteen number times and they are coming here again and again because it's fulfilling a need in their diary or calendar….
Can you ever come to Quest as a regular shopper?
I try to. I was here this Saturday as a shopper, but you cannot switch off…. I had come to buy these glasses, but there were so many other things to overtake my thoughts… I come here very often to watch movies.
So, only when you are watching a film at Quest you switch off?
Yeah, I switch off. ['Not at all!' laughs Sanjeev.] It's now rubbed off on my wife (Preeti) as well, which was not the case earlier. She comes in more as a shopper and she will message me… this, this, this…. (Laughs) And, she of course very often goes to Spencer's and then my son (Shashwat) gets a barrage of messages about things that are not right.…!
So, you have the biggest critic in your family?
Yes, absolutely. It's honest and genuine feedback. I want feedback because we need to improve. The pressure of running a utility (CESC) is way more than running a mall. I can promise you that!
What are your immediate things-to-do and not-to-do for Quest?
Well, no compromise on hygiene. The toilets have to be clean. People should feel welcome when they walk into the mall. And, to give people a better and better offering all the time. I think we are working on different things. You will see Jimmy Choo coming in, in a couple of months.
That's huge!
Jimmy Choo is iconic. It appeals to the young and the old alike. So, Shivika (daughter-in-law) would wear a Jimmy Choo with as much comfort as my wife. They have got the right balance and branding. We are delighted at the thought of getting Jimmy Choo.
It is also a reflection on Quest's performance, a reflection on the city responding to luxury. The first stores which came were a subject matter of a leap of faith or good deals or 'we'll take a chance'. Now this is not 'we'll see'. This is 'we want to be there' and 'Calcutta is a market we cannot ignore'. When retail outlets want to open, they say Quest is our first choice. Regrettably, we don't have more space. Therefore, when we say we want healthy churn, it's something that's pushing that…. I have a few favourites for churn, but, it's not about my favourites, but what I believe would do well in Quest.
One Rabindranath Tagore song that sums up life:
Ekla cholo re
Favourite Satyajit Ray film:
Goopy Gyne Bagha Byne
Amartya Sen is:
About the intellect and the mind
Mother Teresa:
She was all about compassion
You are also launching an app…
Yes. It will facilitate things for consumers. I think we want to do a big launch for the app. Very soon!
What news of the terrace bar?
There will be a skybar. Somewhere around Pujas or between Pujas and December, you will see that open. It will be of a standard the city has not seen.
Will it be 'the feature' of Quest?
Quest is not positioned in a manner where any one thing becomes the feature. Dining-wise would you say it's Yauatcha or Q33 or The Irish House or Chili's? They all do equally well. In terms of footfalls, Chili's is way more than anything else. In terms of visibility, it's Yauatcha. I think it's about a package. How everything contributes to the success of a mall. Every brand contributes. Some don't! (Laughs)
Are you shutting down anything?
We won't shut down anything, but we hope some will… (smiles).
Tell us about the multipurpose venue you are planning…
It will be like an exhibition hall… a space where brands which don't have place here can actually exhibit and sell their goods. We want to keep it open not only for luxury brands but for art, jewellery, silver, sculptures, trunk shows. This will be inside Quest, which you will again see by the end of the year.
These are new things which we are doing to keep Quest young and happening. The idea is to do luxury, a little hatke. I might get my daughter-in-law involved to get brands from Singapore [Shivika is a Singapore girl]. It's another way to keeping Quest relevant. It's about an experience. Footfalls… restaurants… impulse buying… it all feeds off each other.
But isn't it getting into Stylefile territory?
No, no, no…. because Stylefile is there, I cannot compromise on Quest's positioning. Frankly, if it competes with Stylefile, so be it. That can't be a decision for me not to do something that is good for Quest. So, my wife (Preeti co-hosts the annual exhibition with Sumedha Saraogi) will have to learn to compete with that. It's as simple as that.
We are now limited by space. When we had started out, we had a lot of space or it felt like a lot of space. Today, it appears that we could have done with twice the amount of space. We are trying to see whether we can buy things in and around, which can connect….
We have also learnt. I think we have a much better idea about what sells and what doesn't. For example, Thomas Pink is all about white shirts, but white shirts didn't work here. The moment they turned to colour, it started working. So, not every brand in every mall will work.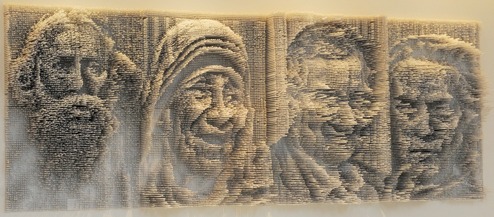 "If you go close, you don't quite get the feel. It is just an interesting abstract installation. It has to be seen from a distance," was how Sanjiv Goenka described the black-and-white acrylic installation by Abin Chaudhuri, made up of 1,28,000 rods that pays a tribute to Rabindranath Tagore, Satyajit Ray, Amartya Sen and Mother Teresa on the fifth floor of Quest.
"If you go close, you don't quite get the feel. It is just an interesting abstract installation. It has to be seen from a distance," was how Sanjiv Goenka described the black-and-white acrylic installation by Abin Chaudhuri, made up of 1,28,000 rods that pays a tribute to Rabindranath Tagore, Satyajit Ray, Amartya Sen and Mother Teresa on the fifth floor of Quest.
South City Mall is in hush-hush luxe revamp mode, Acropolis is drawing in crowds… what do you see as competition?
I don't mean to sound pompous but I don't believe there is any competition for Quest because no other mall is positioned at the same level. We are delighted with our performance at South City from the Spencer's perspective. It is the best-selling Spencer's store in the country for us, also our biggest Spencer's. We are privileged to be there, but it's two different target audience. I don't think it's competition. I think it's something that is complementary.
Frankly, we hope some brands move out of here to South City! All I am saying is we do believe that South City Mall is an outstanding mall. It's positioned at a different target audience and it has fulfilled its mandate.
We would like all malls in the city to do well! We would like Acropolis to do well. My daughter (Avarna Jain) went to Acropolis to check out Au Bon Pain and she walked away very happy with the mall. The more malls to do well, the better it is for the city, the better it is for the people and the better it is for us.
Are you more observant when you go to other malls?
I am not critically observant. I am trying to see what's good or what's not. You learn from the good things and also the not-so-good things.
And do the not-so-good things you see there give you a kick?
That happens when you are 25, it doesn't happen when you are 55. When I see something else doing well, it gives me a certain amount of happiness and I cannot explain it. I have internally started believing a lot in this. It's a change. It's also to do with a philosophical belief — my wife says I am getting old as do my children, but they subscribe to my thought process — that if you do something negative, it will come back to haunt you tomorrow or 10 years later…. I am genuinely happy that South City does well. I am unhappy that Forum is not doing well. But then success and failure is a part of any industry. I want others to succeed and I want us to succeed….
I certainly want to be Number One in the race. None of this dilutes my ambition of being the best. It doesn't dilute my desire to excel.