It's a platform world and it's only getting bigger; thanks to the Buy Now Pay Later (BNPL) boom.
With BNPL, consumers can make bite-sized payments for purchases over time, either online or in-store. Think digital layaway. What was once old is new again.
With mostly zero interest fees, BNPL is wildly popular and already giving credit cards a run for their money. The upshot is BNPL is propelling the explosive growth of platforms that connect buyers and sellers.
Affirm, Afterpay and Klarna are raking in huge revenue, as Amazon, PayPal, eBay and Facebook integrate BNPL. Affirm has seen a 77% growth in GMV (Gross Merchandise Value) from $2.6B in FY 2019 to $4.6B in FY 2020.
Why merchants think BNPL is an easy sell
BNPL works two ways. Fintech platforms lend consumers money directly before they make purchases or they reach customers at the checkout via merchants.
For the merchant, BNPL makes strategic sense. The BNPL provider is paying upfront, there is more revenue per transaction and the merchant doesn't have to deal with collections.
It's easy to see why 92% of UK merchants have already integrated their first BNPL solution since early 2020, according to a survey by Bain & Company. In the UK, BNPL makes up 20% of sales from retailers offering BNPL, equal to the share of sales as digital wallets.
In the United States, 25% of merchants accept BNPL, according to a ZIP.co survey of more than 1000 merchants, but that number is changing fast. 46 percent of merchants say they are likely or extremely likely to change that in the next year.
As BNPL goes big and platforms proliferate, merchants will have their pick of BNPL partners. However, that's not necessarily a great thing. Studies show that too many BNPL options at checkout can confuse consumers and cause cart abandonment.
Smart merchants will choose their BNPL partnerships strategically and judiciously. As competition stiffens, the merchant experience will matter more than ever. Platforms that are serious about sustained BNPL growth will treat merchant success as their success.
Make merchant success your success.
For BNPLs in the physical commerce space, the moment of truth will always be at the Point of Sale. For them to win the PoS game against plastic or cash, great merchant experience with strong relationship management is paramount.
5 areas of opportunity for BNPL platforms to enhance the merchant experience and help ensure sustainable growth:
Merchant outreach
Identifying and onboarding merchants is a tedious process. There's no getting around some of the manual steps involved such as reaching out directly to prospective merchants. But, merchants want information on the BNPL platform experience, so it's important for BNPL platforms to invest in strategic merchant communication.
Frictionless onboarding
Is your process 1 day or 1 week or 1 month long? How difficult is the technology integration? Do you provide setup support? Speed and ease matter to merchants. There are also areas of opportunity for platforms to use automation to speed up onboarding times and to facilitate a seamless integration experience.
Higher conversion rates; more sales
Customers expect an easy interface, timely notifications of credit approval, payment reminders, and the ability to temporarily freeze payments. Consumers also want to try before they buy so returns must be easy.
Without all the bells and whistles and proper customer support, consumers abandon carts, which certainly hampers repeat business, one of the major benefits of BNPL. Yet, many BNPL providers are struggling to fill talent gaps. Some platforms have as many as 200 open positions.
Capacity building is not the core competency of BNPL platforms. BNPL providers need outside help to recruit and build capacity at a quick clip to maintain the merchant experience and keep pace with BNPL growth.
Increased customer insights
BNPL platforms house a treasure-trove of tidbits about customer preferences. Promising to sharing insights with retailers can give BNPL platforms an edge in their recruitment efforts.
Meaningful support
Many issues arise for merchants surrounding returns, warranties and app issues. Sometimes money has to flow in the reverse direction and reconciliations are necessary. Merchants expect on-demand support.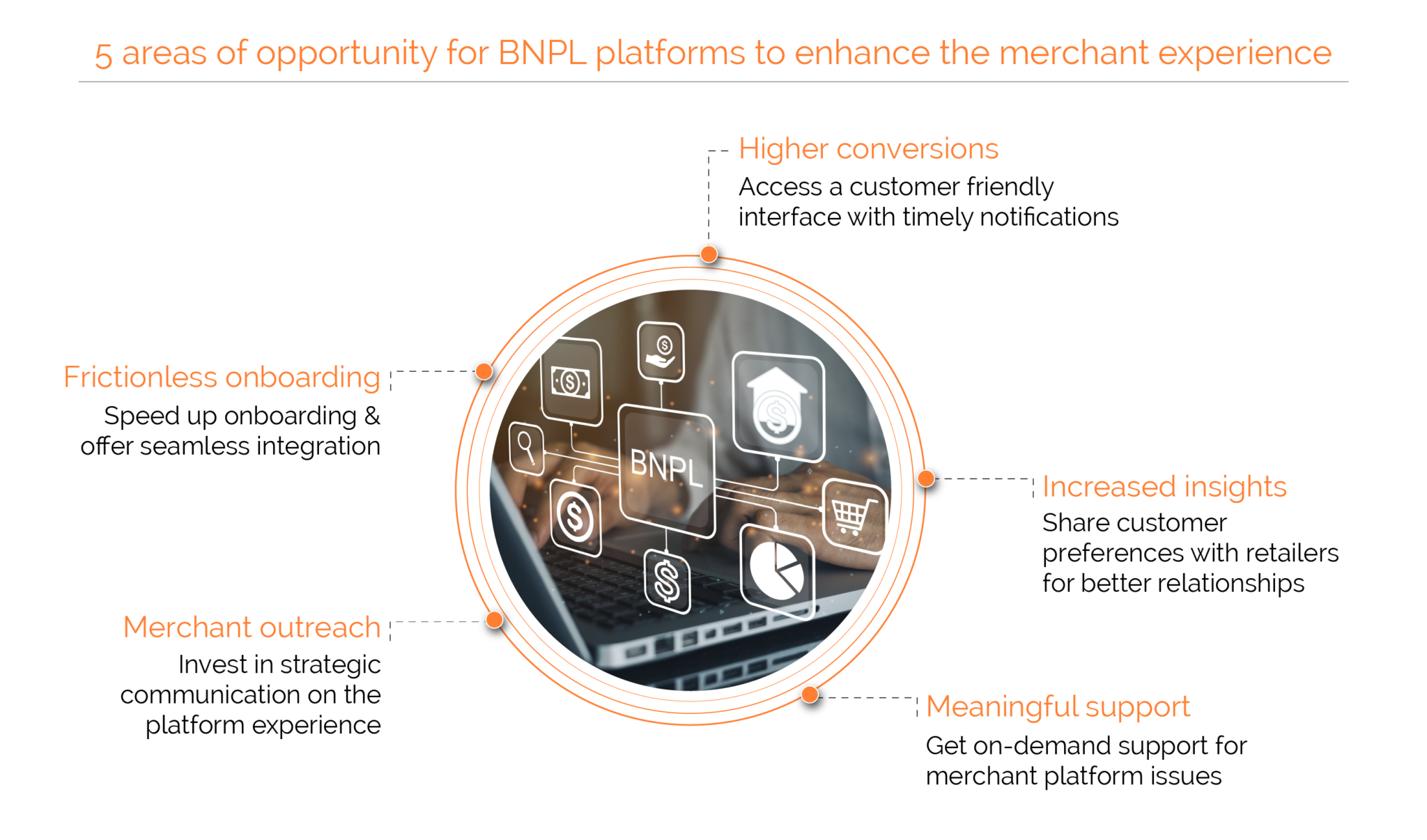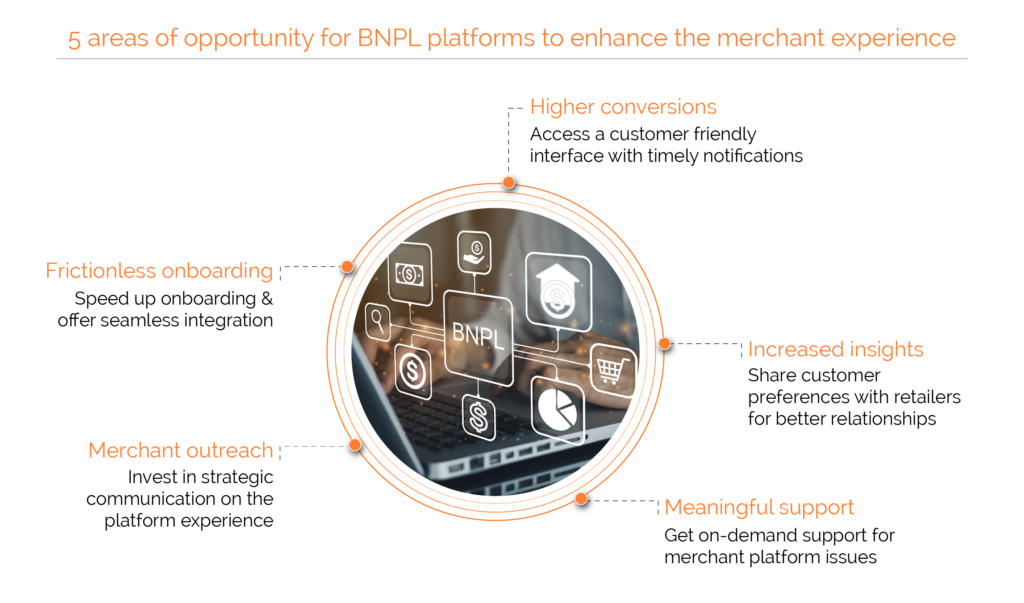 The BNPL phenomenon is powering the next iteration of platforms. A retail renaissance is possible, but only probable if platforms cater to what merchants want.
Merchants realize BNPL's value to increase cart conversions and attract new customers. But, their commitment will wither if they have a negative experience. Mutual success requires seamless merchant lifecycle management. It involves the orchestration of multiple moving parts – from deploying the right technologies to providing robust omnichannel merchant support.
For BNPL platforms, sustaining profitable and workable partnerships with retailers is about adopting the mindset that merchant success is your success.