A digital first approach delivers the convenient experience members want while increasing insights payers need for personalized care management
Healthcare payers are searching for ways to engage members more effectively with compelling experiences. Members now expect personalized recommendations and coaching, and the information gleaned from the Health Risk Assessment (HRA) survey can help payers deliver those. But while the HRA is a traditional tool, it's time for payers to update how they conduct that survey.
Traditional survey methods, including snail mail, outbound calls and organic traffic to member portals, are expensive and resource-intense, yet typically result in low completion rates.  The better way to encourage members to complete HRA surveys is to take a digital first approach, following up with analog techniques only when necessary.
With a digital first strategy, payers can offer members personalized HRA surveys at the times, and in the channels of their choice, improving completion rates. Payers save money while gaining valuable insights into members' health needs and preferences sooner, leading to better healthcare outcomes and greater member experiences.
The case for digital-first HRAs
Traditional one-size-fits-all HRA processes are no longer effective among diverse and digitally savvy members. Here are some of the common issues that prevent members from completing HRAs and reduce the tool's effectiveness:
Survey length and complexity. Everyone feels pressed for time; members may set aside surveys that they perceive as long and complicated, then never return to them.
Lack of personalization. Members are more likely to engage with surveys that reflect their specific health circumstances instead of generic versions.
Inconvenient timing. Delivering HRA surveys to members when they are busy or stressed can result in poor completion rates.
Unfriendly channels. Mailed surveys that require mailed or faxed responses are inconvenient as well as antiquated. Interactive voice response (IVR), portals or outbound calls for HRA surveys can be intimidating and time consuming and discourage participation.
Incorrect member data. Inaccurate phone numbers and outdated addresses prevent surveys from reaching members.
These traditional approaches cost time and money, yet don't deliver the results health plans need, to engage members, direct them to appropriate care plans and help them achieve better health outcomes.
Leading with digital
Going digital first with HRAs means making the surveys available on demand across a wide range of digital channels so that members may complete them wherever and whenever convenient for them. Channels can include websites, micro-sites, on demand smartphone apps that don't require downloads, email, texts, etc.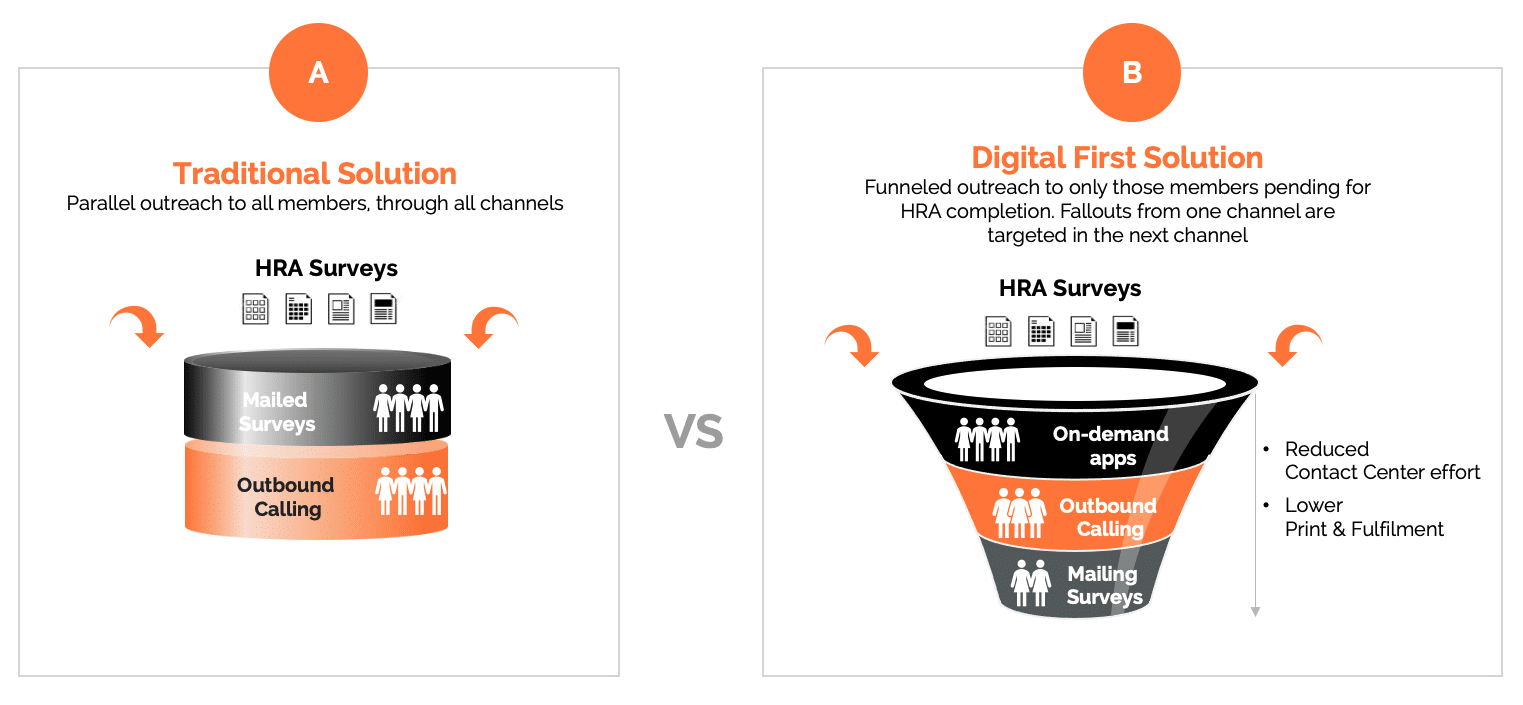 The digital-first HRA may be as sophisticated as a health plan wants it to be. Natural language processing can tailor the survey in real time based on member responses. AI and analytics engines can continuously monitor interactions, uncovering trends in populations and for individual members. This helps plans to build valuable insights and recommendations for future member engagements, for the HRA and all member touchpoints.
Creating personalized HRA surveys based on individual members' medical history as well as socio-economic factors can make the survey more concise and easier to complete. In addition, members are likely to engage more with questions relevant to their existing health condition vs. a generic impersonal survey.
Members that don't want to engage digitally may participate via phone calls or mailed surveys. The number of members landing in this category should be much smaller after the initial digital outreach, which enables many more touches at much lower costs.
Additional benefits of the digital first approach include:
Higher completion rates. Increased HRA survey completion rates give health plans and providers a more comprehensive understanding of their members' health needs and preferences.
Lower operational costs. Digital outreach tailored to members' histories and preferred channels nets greater returns at lower costs than traditional mailings or campaigns built primarily on outbound calling.
Improved member experience. Streamlined, personalized and convenient surveys can enable health plans to quickly act on member responses, especially when the digital survey solution is integrated with other systems. A member could be automatically enrolled in the appropriate care plan after completing a survey and receive a welcome message from their care manager.
Higher retention rates. Member loyalty and lifetime value grows as members experience better engagement and more personalized care.
Better health outcomes. The insights gained from HRA surveys enable plans and healthcare professionals to tailor interventions to individual member needs, which should lead to improved health outcomes.
Enhanced ratings. Improved HRA survey contents and completion rates should improve data quality, enabling payers to engage members more effectively. Better engagement and outcomes should contribute to better plan ratings.
Effective member and population health management. Continuous risk assessment enabled by AI ensures that members' health needs are consistently monitored and addressed, promoting proactive health management.
Reduced healthcare costs. Identifying members' needs early and accurately enables timely interventions and health coaching, helping to manage chronic conditions effectively and preventing escalation of health issues.
Health plans that take a digital-first approach to HRA surveys will also be positioned to conduct other surveys and member engagement digitally, such as CAHPS surveys. These streamlined digital tools enable plans to connect efficiently with members and improve both surveys and completion rates. Better, richer connections should equip payers to deliver the intelligent, personal experiences members expect – and that are necessary prerequisites to competing successfully in today's dynamic healthcare marketplace.
For more information about the Firstsource approach to HRA surveys, please contact Priyanka Grover, AVP Firstsource Health Plans and Healthcare Services; and Anushka Saxena, Firstsource Health Plans and Healthcare Services.