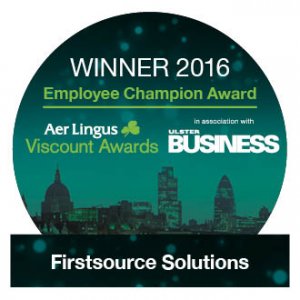 Firstsource Solutions, has lifted the Employee Champion award at the 2016 Aer Lingus Viscount Awards, in London.  The awards ceremony and gala dinner, which took place at the prestigious Institute of Directors Headquarters on 24th May, celebrate the very best of our indigenous businesses.
Firstsource put in place a 'People Plan', with engagement programmes and flexible work patterns that support employees, making it a better place to work. A demonstrable commitment to excellence in leadership, development and health/wellbeing, including support for mental health issues, has benefitted the business as a whole.
Commenting on the awards, Laura Hourican VP, Human Resources, UK said; "We are delighted to have won such a prestigious award in Northern Ireland.
"At Firstsource, our people are at the centre of everything we do. We are particularly proud of our continual investment in a range of programmes that helps to improve the long- term health and wellbeing of our staff. As a responsible employer, we are conscious that employee wellbeing, career development and inclusion, is of paramount importance for business growth."
Andrea Hunter, Business Development Manager of Aer Lingus in Northern Ireland said: "We are proud to continue to reward and support those organisations that represent the absolute best in their respective fields.
"This was a true celebration of business excellence and on behalf of Aer Lingus I would like to congratulate Firstsource Solutions and each of the winners for their tremendous successes."