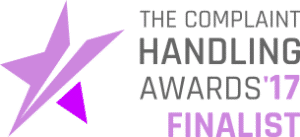 We are thrilled to announce that we've been shortlisted for four categories in another prestigious award – the UK Complaint Handling Awards 2018!
The news follows our recent announcements that Firstsource has also been successful in winning gold at the Global Sourcing Association Awards, the UK Customer Experience Awards and the European Contact Centre and Customer Service Awards.
We are now in in the running to win Best Personal Entertainment & Telecoms, Product & Service Improvement – Transforming Customer Relations, Managing People and Complaint Handling Team of the Year for our long running partnership with giffgaff.
Commenting on the shortlisting, Adam Gould, Senior Vice President Operations at Firstsource Solutions, said:
"We are delighted to have been shortlisted in this year's UK Complaint Handling Awards, recognising Firstsource's commitment to achieving excellence in managing consumer complaints. The fact that we have shortlisted in all four categories speaks volumes to the efforts of the Firstsource team."
Michael Hill, Chair of Judges for The UK Complaint Handling Awards 2018 and Head of Sales at iCasework Limited said: ""Having read all the entries, the standard this year is simply amazing. There are a couple of entries that are already standing out as being exceptional on paper, but that doesn't mean they will stand up to the judge's scrutiny at the finals! There is a great deal of consistency across all the categories and so many positive examples of using customer complaints to deliver better products and services. Congratulations to all the finalists and I look forward to seeing you at the awards on February 22nd at the Park Plaza Riverbank, London. Let's see who will succeed in the rigorous judging process ahead!"
About Firstsource
Firstsource, a RP-Sanjiv Goenka Group company is a customer experience expert and global provider of customised BPM (Business Process Management). Firstsource partners with brands including FTSE 100, Fortune 500 and Nifty 50 companies in the Banking, Financial Services and Insurance, Healthcare, Telecommunications and Media sectors. We operate in India, the Philippines, the UK and the US.