Mumbai, 17 January 2023: Firstsource Solutions Limited (NSE: FSL, BSE:532809), a global provider of Business Process Management (BPM) services and an RP-Sanjiv Goenka Group company, has been named a 'Leader' in NelsonHall's NEAT Mortgage and Loan Services 2022 report for the Overall Market segment.
Firstsource's mortgage business, Sourcepoint's, positioning is based on the company's strong Mortgage & Loan services business, especially across the US, which is delivering a diverse set of engagements across a broad range of financial institutions.
The report highlights the following strengths for Firstsource's mortgage business:
• Licensing capabilities for originations, servicing, title, and collections
• Due diligence services for capital markets and secondary markets counterparties
• Digital offerings for quality control and post-closing services for the top tier and mid-tier lenders
• Large client base in the U.S. including Large Depository institutions, Independent Mortgage Bankers, Small Banks, and Credit Unions
• Long term experience with the largest UK lender across multiple lending products
Sameer Ahluwalia, President and Global Head, BFS, Firstsource shares, "We are delighted to be positioned as a Leader in NelsonHall's assessment of mortgage services providers. All credit goes to our incredible team for this recognition, which highlights our expertise across the mortgage origination, and servicing lifecycle. Plus, our mortgage services portfolio expansion into platform-based Quality Control and Due Diligence services now enables us to deliver even greater value across client enterprises. This recognition from NelsonHall reaffirms our continued commitment to provide future-ready, innovative solutions."
Andy Efstathiou, NelsonHall's Banking Operations & Transformation Research Director, said: "Firstsource has a large partner network for legal collections and relevant licenses across originations, servicing, title, and default management, which enables it to customize and optimize delivery at a local level for the most complex and expensive of mortgage processes."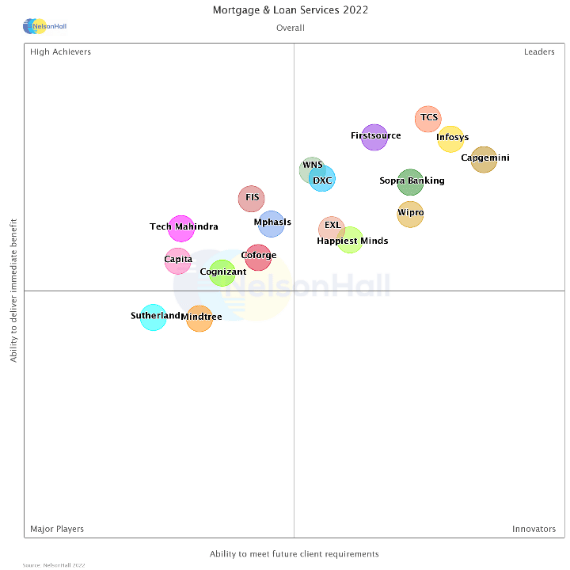 The Mortgage & Loan industry is adapting to new business conditions where they need to increase agility to deal with cyclicality and launch new products in a shorter time frame. Data management has moved to the center of what is needed to address consumer needs and new customer acquisitions. Operations need to be able to scale up/down with higher accuracy and a very low cost of delivery. Firstsource is perfectly poised to leverage these requirements with the company's Digital First, Digital Now approach, recent acquisitions significantly enhancing its offerings, and plans to expand its nearshore delivery capability.
About Firstsource
Firstsource Solutions Limited, an RP-Sanjiv Goenka Group company (NSE: FSL, BSE: 532809, Reuters: FISO.BO, Bloomberg: FSOL:IN), is a leading provider of transformational solutions and services spanning the customer lifecycle across Healthcare, Banking and Financial Services, Communications, Media and Technology and other industries. The Company's 'Digital First, Digital Now' approach helps organizations reinvent operations and reimagine business models, enabling them to deliver moments that matter and build competitive advantage. With an established presence in the US, the UK, India and the Philippines, Firstsource acts as a trusted growth partner for over 100 leading global brands, including several Fortune 500 and FTSE 100 companies. https://www.firstsource.com/
About NelsonHall
NelsonHall is the leading global analyst firm dedicated to helping organizations understand the 'art of the possible' in digital operations transformation. With analysts in the U.S., U.K., Continental Europe, and India, NelsonHall provides buy-side organizations with detailed, critical information on markets and vendors (including NEAT assessments) that helps them make fast and highly informed sourcing decisions. And for vendors, NelsonHall provides deep knowledge of market dynamics and user requirements to help them hone their go-to-market strategies. NelsonHall's research is based on rigorous, primary research, and is widely respected for the quality, depth and insight of its analysis.
Media contacts
Madhavi Behl
Firstsource Solutions
(+91) 9819872747
madhavi.behl@firstsource.com