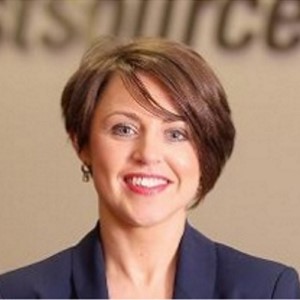 Laura gives us an insight into her early career in people management, provides some examples of the good work that Firstsource are doing to attract and retain talent and explains how her family help her unwind and keep her going when things get tough.
---
Name: Laura Hourican
Position & Organisation: Vice President Human Resources UK for Firstsource Solutions UK Ltd
Number of Employees: 6000
Time in Post: With Firstsource for 10 years in current position 2 years.
Previous Job: GM Human Resources UK
Tell us about your business in a sentence
Trusted outsourcing partner for the World's Leading Brands
Give us an idea about your early life and career
I came from a Family run Funeral Directing business and envisaged I could take over 'when I got older!', however I quickly released I was much too emotional but helped out in the office! I always had an interest in business and decided to do Business Administration at Liverpool John Moores, then started my graduate career in retail before moving into hospitality. I always tended to sway towards the people management side and decided to go back to University to complete by CIPD; I then started my HR career with a US multinational in Ireland. I have always worked in a generalist field and loved the variety and challenges it brought. I was also fortunate to spend time in India, US, Germany & France with the role. Upon deciding to relocate home I came across an organisation that was starting up in Derry (Firstsource – a global business process outsourcer) and joined the team as HR Manager. Over the past 10 years I have been part of an organisation that has gone from strength to strength.
What are the key challenges you face in your role?
HR and outsourcing present multiple challenges, we work in a fast paced environment that needs to adjust and adapt quickly to client requirements. The key focus areas for HR are colleague retention and engagement.
Call centres are often tainted with preordained perceptions and have received their fair share of negative press, but the reality is very different. At Firstsource we want to attract and retain talent in our business, in return we offer excellent training and development programmes. We are the only outsourcer that offers our colleagues the opportunity to gain a BSc Hons degree in Customer Contact Management; this programme has been designed and accredited through Ulster University and is made up from in-house development and online learning. We actively promote from within and support colleagues through external development programmes.
We understand the role is demanding and we are passionate about employee engagement and making the workplace 'fun'; our people plan is designed to drive employee engagement activities and lead by our people champions. We also measure engagement daily!
What keeps you going when things get tough?
Without a doubt it is the team I work with, there will always be tough days or weeks but the most important thing is to have people you can rely on and trust. And getting home to 3 smiling faces always helps.
If you could do any job in the world, what would it be?
I would probably run a deli & wine shop. I am a keen cook but in heaven when I visit Avoca in Wicklow.
Who do you most admire in business locally and/or internationally? Why?
I had great admiration for self-starters and local entrepreneurs. It a tough leap to start up on your own and coming from a family run business I appreciate the work and dedication to make a success.
How do you unwind after a tough week?
With 3 young daughters aged 10, 8 & 5 weekends are not so much for unwinding as their demands are as tough as work sometimes, but children have a great way of providing you context of what's important in life and keep me laughing.
What's your top office/business bugbear?
Office politics….. just say it and don't have corridor conversations!
What are the key characteristics of your top performing employees?
Dedication and passion for doing a great job.
What skills are essential for a top career in HR and will these still be the same in 5 years time?
Many people view being a 'people person' the key attribute for a HR career, whilst is it is essential you need to be fair and balanced in your approach. It is also essential you align strongly the people initiatives to the critical business drivers; this is the way HR adds value and becomes true business partners. I would also say influencing skills are imperative. I don't see the core skills changing dramatically over the next five years but we are in a world of 'big data', for any HR professional you need to use the people data effectively.
How did you gain an understanding of a more strategic level of HR?
I am fortunate to have a strong mentor within Firstsource at Executive Level, learning comes from working across functions and different levels of the business.
What is the best piece of business advice you have ever been given?
I have had lots of advice but one that sticks out and I would use is 'don't be afraid to fail'; sometimes you can hold back on decisions in case they are wrong but it's often the risky decisions that take you up the learning curve quickly and/or harness the best results.
Looking back at your career to date, what were the key elements in your jump from Trainee Manager for Victoria Wine Company to Vice President Human Resource Firstsource Solutions UK Limted?
Until you look back you don't realise how much you learn and develop over the years. Graduating 20 years ago (give or take a few months!) I am lucky that quickly into my career I decided to pursue the HR route. Knowing what you want to do and enjoying it is imperative to me. I have been able to work across multiple industries and in different geographical locations which has been a significant advantage.
What would be the key piece of advice you would give to people considering a career in human resources?
Try and spend some time understanding what HR is all about, there are so many components to a generalist HR role, some parts are better than others but you need to take the rough with the smooth!
What is your proudest career achievement to date?
Just last month we have attained Investor in People Gold accreditation for Firstsource UK following reaccreditation from achieving Silver three years ago. The external benchmark demonstrates the strong people practices within Firstsource which we are very proud of!
What benefits do staff value most in your organisation?
It depends on the individual and the stage of career a person is at as to what is important. Overall I believe the work we do in Wellbeing whether that be through the healthcare package, wellbeing weeks or mental health training, there is something for everyone from Wellbeing benefits.
In your view what is the best thing an organisation can do to motivate staff and drive higher performance?
Development, investing in people and their future is essential for retention and attraction. We have an excellent development team within the business and also offer employees the opportunity to gain Bsc Honours degree in Customer Contact Management, through the internal development programmes available.