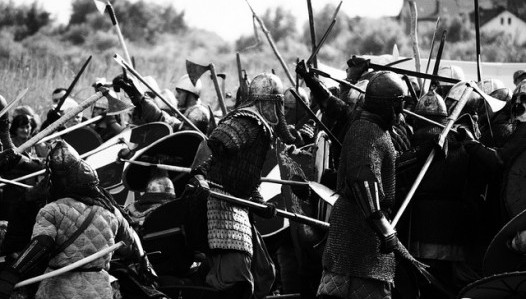 Image: Jakub T. Jankiewicz
As businesses leaders from organisations of all shapes and sizes will tell you, smart marketing is crucial for the success of any brand.
Despite this, putting marketing strategies into action isn't always easy. For smaller businesses in particular, financial strains and time pressures can often mean that marketing takes a back seat to the day to day running of a business.
Luckily for these smaller, independent brands, a shift in how brands engage with customers is shaking up the way we approach marketing.  Today, consumers expect convenience on tap and aren't afraid to raise their voice when they don't get what they want. For smaller players, naturally nimble and able to flex to meet customer demand, it is their offer of great customer experience that can help to set them apart from the competition, build loyalty amongst consumers and, ultimately, drive sales – the end goal of all marketing campaigns.
Rather than focussing on traditional advertising to attract and retain customers, smaller players can now look to their day to day customer interactions to do their marketing for them. Taking advantage of the fact that the way that they engage with customers will shape who their brand is, SMEs have a unique ability to steal a march on larger corporations who power up marketing investments to compensate for a less personal experience.
With a unique opportunity to leverage customer experience to build their brand, how can smaller players ensure that each and every interaction drives their business forward?
Get social
If you want to know what consumers think of a brand, check it out on social media.
In a digital world, peer reviews, customer forums, Twitter and Facebook pages are some of the best ways of temperature checking customer sentiment towards an organisation. Open and honest, they can also have a huge impact on wider audiences – including existing and prospective customers. In fact, 92% of consumers say they trust 'earned media', such as social media, above all other forms of marketing.
The opportunity for brands to deliver great customer experience by harnessing the power of social media should not be underestimated. Social channels offer many advantages over traditional marketing, including cost and the ability to react in real time. Managed well, social customer interactions can also showcase end-consumers as your biggest brand advocates.
Offer choice
Chat bots and advances in artificial intelligence have made digital and self-serve communication channels popular options for brands looking to reduce costs and maintain consistency when they interact with customers. Despite this, 65% of non-face to face consumer contact still happens over the phone and 15% over email.
For the consumer that wants convenience, great customer experience means more options – and more channels to connect with a brand. Whilst digital innovation is a must for businesses looking to grow in an increasingly online world, they should not forget tried and and tested channels, such as voice, to deliver stand-out experiences.
Grow relationships, not sales
Behavioural science has taught us that we generally remember an experience based on how good or bad it was at its worst or best and how it ends. This means that as long as it isn't too painful, a customer will remember an experience positively as long as the outcome is good and you keep them well informed along the way.
Thinking in terms of building relationships with customers through positive experiences, rather than delivering on sales targets, will help businesses build customer advocacy. Those on the frontline of customer communication, for example, should offer customers empathy by focusing on finding a solution or answer to a query no matter how long it takes, rather than time spent 'handling' a customer. To achieve this, brands need to empower helpful advisors with proven processes that ultimately promote their brand.
Customer experience – a new opportunity
With the consumer craving for convenience only set to grow, the opportunity for smaller businesses to compete on an equal playing field to their larger counterparts is huge.
Nimble and customer-focussed, putting great customer experience at the heart of their marketing is not only cost-efficient, but a natural and highly effective way of growing a customer base by building brand reputation and loyalty.
By Simon Hunt, director of customer experience at Firstsource Solutions