Get a guided demo on how Firstsource's Digital Debt Collection Solution can improve your recovery, reduce cost-to-collect and improve compliance.
Top 3 benefits of choosing

Firstsource's Digital Debt Collection

Customer Engagement vs. Call to Collect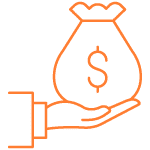 Cash collected per account

Reduction in cost to collect
3 Reasons to get started today with

Digital Debt Recovery Solution
4 Key components to the

Digital Debt Recovery Solution

An intuitive and user-friendly interface makes it easier for customers to access multiple payment plans depending on their age, balance and propensity to pay.

Proactive email/messaging strategies depending on the balance, customer's age and credit score, as well as reactive strategies based on customer actions on the website.

Voice and email based assistance to handle inquiries, resolve disputes and offer customized payment plans as part of your outsourced debt recovery services.

Once you outsource debt collection services – all web content and customer communication are reviewed and approved by our legal and compliance experts with reporting insights.
Rest easy with

Firstsource's expertise
Trusted partner
Global top 20 collections agency and leading digital debt collection company delivering value since 1971
Vertical markets
Financial services, Telecom, Automotive & Healthcare with end to end lifecycle management
Future ready
Future-prrofing legal compliance by consistently adapting with technologies at scale