Helping Financial Services companies improve their CX
After months of turmoil businesses that have taken Coronavirus loans will be extra sensitive to fiscal conversations. Firstsource has years of experience supporting Financial Services clients' customer interactions. Below success stories demonstrate how we implemented solutions, spanning traditional and digital channels, to infuse empathy and drive engagement across touchpoints.
Handling Sensitive conversations
Understanding and addressing vulnerability for financially-distressed customers
While handling the fallout of PPI claims for a Financial Regulatory Body, Firstsource recognised colleagues were encountering challenges in supporting financially distressed customers. This called for extra guidance around handling sensitive conversations, identifying vulnerable clients and their needs, and supporting them with the best follow-up approach.
Firstsource developed highly specific training to meet client needs. The training covered steps to identify and manage vulnerable customers, objection handling and provided flexible communication styles. Training materials were produced in just one week and training delivered in half a day sessions. We also provided vulnerable customers with bespoke follow-up and referral options to support partners.
After the training implementation more vulnerable customers were identified, followed-up and provided with suitable referrals, resulting in:
> Increase in average colleague confidence for handling emotive conversations up to 9 out of 10 (from 6)
> 97% CSAT score even at high call volumes
> More referrals to partners able to support vulnerable customers
Improving BBLS fraud detection and
communications for a major UK bank

A major UK bank saw an increase in business accounts becoming fraud targets following BBLS roll-out. The challenges included navigating delicate situations and emotional responses from affected customers while asking detailed questions without causing alarm or annoyance in genuine customers.

To combat social engineering attempts Firstsource initially reduced the use of automated IDs. This was swiftly followed by adding more advanced screening questions to the script. The questions were designed to enable customer to provide necessary information without causing alarm or annoyance.
Firstsource also saw an opportunity to use internal knowledge to provide training for customer colleagues around identifying 'red flags' in account activity.

By introducing more ID checks, red flags training and updating questioning to detect possible scams the client was able to identify more potential victims of fraud and to prevent the transfer of funds from their account. The results include:
> 62% reduction in fraud losses volume in only four months
> Positive uplift in QA performance
Taking the emotional burden out of financial conversations
Utilising digital channels to support human interaction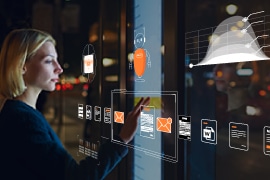 Seeing poor traction for voice-call collections, Firstsource seized an opportunity to give customers more control with a multi-channel approach. We added intuitive self-service to digital communications providing relevant information when and where suited customers. Backing this with optional voice calls meant customers who needed a conversation had this choice. The solution was enhanced by using analytics to understand what channels, approaches, and which emails and text messages work best. These insights were used to build predictive propensity to pay models and guide profile-based communications.
Rolling out tailored communications to various profiles across channels resulted in an improvement of average net yield per customer. While using digital channels proved less intrusive for customers and more cost efficient for the client. The overall results include:

> 101% improvement in average net yield per customer

> 79% reduction in cost to collect
Firstsource is turning years of customer servicing experience into insights to help lenders' meet their account handling challenges. To be the first to get these and to stay up-to date on our latest thinking sign up here.
To learn more about our end-to-end customer management solutions get in touch.