The digital transformation of higher education is now well underway, with institutions of all sizes and types leveraging the rapidly evolving constellation of smart technology to redesign their academic enterprises.  In fact, Fortune Business Insights predicts that the global higher education technology market will double in size by 2028, from $85 billion in 2021 to nearly $170 billion – a big step in the digital transformation journey.       
This journey actually started in the 90s when forward-thinking institutions began harnessing the power of technology to digitize and automate all sorts of information and processes – from student records and library sources to online applications and course delivery.  But the advent of big data and smart technologies in the 21st century added a wholly new dimension for academic leaders like me, by paving the way for us to build a robust data analytics infrastructure.  And in doing so, made it possible to implement cost-effective education technology solutions for enhanced decision-making and operational efficiencies. 
Equally important, these digital tools offered a unique opportunity to greatly improve the  student experience, at a time when the higher education market was becoming increasingly more competitive and fluid, given its shifting landscape.     
Explore our podcast about Transforming Digital Education   
Student experience as a unique selling point
As non-traditional students are fast becoming the "new normal" and lifelong learning, the driving force behind professional success, colleges and universities are looking for innovative, technology-powered options to meet rapidly changing student needs and expectations.  To begin with, non-traditional students – most often working adults – are generally in the market for effective and affordable pathways to career-enhancing competencies and credentials. 
What's more, with ever-rising tuition, prospective students of all ages are increasingly more proficient at "shopping" affordable academic options that meet their requirements – using e-commerce to make their selections.  So in a world where their "customers" seamlessly control their brand relationships, education providers are sharpening their competitive edge by delivering a superior experience at every stage of the student lifecycle: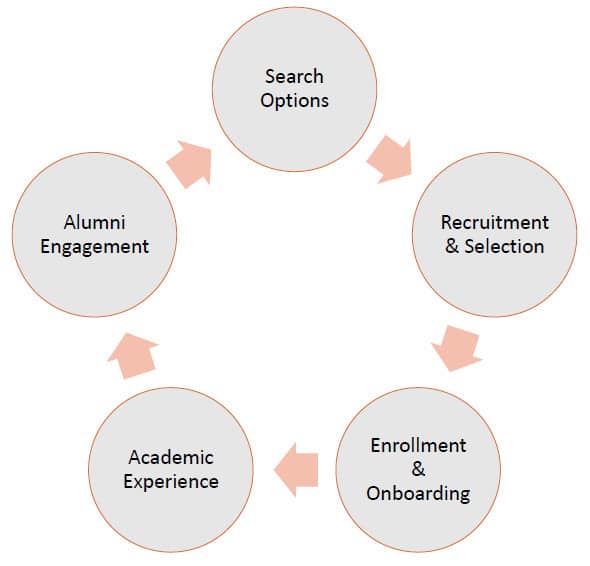 Having spent most of my career in adult-serving universities, I have learned that a consistent, connected and customized student experience fosters increasingly higher levels of academic brand affinity – which is why smart technology now plays a significant role in student lifecycle management.  Digital tools that incorporate machine learning, deep learning and predictive analytics; natural language processing and intelligent data discovery have made it easier to deliver a truly personalized experience, by collecting reams of student data.  And in doing so, to accomplish a variety of critical objectives.
From "Persona" to "Personalized"
For years, higher education has relied on "personas" – fictional profiles of ideal students – as the essential tool for designing student marketing strategies and materials.  Yet while these profiles can be effective to a point, they can also be problematic when developed and/or used inappropriately.  For one thing, personas are grounded in statistical stereotypes about a segment of students, rather than individualized profiles based on actual behavior – which would give us better insights with which to "flesh out" the persona, so to speak.  For another, they are used for a one-time institutional sell, as opposed to an ongoing gauge for student success throughout the academic lifecycle.  Equally significant, as the higher education market continues to change, so are the traditional assumptions we've made about our "ideal" students.   
Now enter smart technologies that empower us to create predictive journeys and value-added experiences for individual students – based on systems that are constantly collecting and analyzing an individual student's behavior and circumstances.  For example, a growing number of institutions – like New York University – are using artificial intelligence (AI) to assess a student applicant's potential for success in the program of their choice. 
In addition to analyzing behavior, AI and big data are increasingly being used to provide a personalized learning experience, uniquely tailored to an individual student's abilities, needs and learning style. For example, as online education becomes more ubiquitous, institutions of higher education are implementing AI to serve up customized content in individual courses, as a way to optimize learning outcomes.  In fact, by providing additional and targeted materials in a format that works, these systems encourage ever-deepening levels of knowledge acquisition and retention.       
Pain points quickly resolved
Given its capacity for both rapid information response and seamless self-service, smart technology also offers a unique opportunity to quickly resolve "pain points" as and where they occur within the student experience, at any point during the student lifecycle.  So much so, that institutions around the world have invested heavily in creating smart personal assistants to provide customized virtual support on demand. 
Take Northern Arizona University, for example.  This future-focused institution used smart technology to build its own one-stop mobile app, NAUgo, in an effort to help its 29,000 students more effectively manage their college experience.  As such, it incorporates a host of modules that provide real-time information on pretty much every aspect of campus life. 
For instance, students can quickly access personalized information, such as class schedules and grades, while receiving notifications for academic deadlines, as well as for in-person and virtual campus events of interest.  Likewise, the "Be Healthy" module offers a variety of tools in one place to keep students' wellbeing on track – from behavioral health counseling services to workout schedules to group biking trips.
As a result, Northern Arizona has saved countless faculty and staff hours dealing with a steady stream of student questions.  It also continues to pave the way for students to enjoy a relatively seamless student experience without the headache of missing important assignments, waiting in long lines, or running from office to office in search of service support. 
Enhanced opportunities for engagement
As Dr. Grainne Oates will attest, gamification offers an exceptional strategy for promoting student engagement in the learning process – which is why she created Quitch, a mobile gaming app that combines AI and predictive analytics to reinforce knowledge acquisition.  By downloading the app, faculty can integrate course content in any discipline, and students can interact with it by completing short tasks and quizzes in their own time, using immediate and actionable feedback to remediate identified knowledge gaps. 
And like any good game, it incorporates competitive leaderboards, achievement badges and point attribution for additional motivation.  Needless to say, this innovative and highly successful student engagement strategy has inspired thousands of enthusiastic "Quitch-perts," not only across the Swinburne population, but on other campuses around the world.         
The higher education community is also pioneering smart technologies to transform alumni engagement and advancement, by collecting reams of data with which to provide personalized content that promotes ongoing brand affinity and loyalty.  In fact, sophisticated chatbots are being deployed to solicit alumni contact information, as well as to quickly point alumni in the direction of career services and lifelong learning options. And when it comes to alumni advancement, smart technology is a game-changer, given its capacity to mine donor data for personalizing appeals. 
Work with the experts
No doubt about it.  Smart technology is breathing new life into the digital transformation of higher education – particularly with respect to the critical role it can play in student lifecycle management.  Indeed, by providing a superior student experience – from first point of contact through alumni engagement – colleges and universities can set themselves well apart in an increasingly competitive academic market.
But to make it happen, these digital tools must be carefully selected and fully integrated, using a well-conceived roadmap that not only supports the school's brand identity and campus culture, but also achieves strategic growth and development objectives over time.  The idea here is to think big, start small and scale quickly.
Of course, the universe of smart technology will continue to evolve, with new and exciting options hitting the market at rapid speed.  So, it's important to work with an experienced company like Firstsource to design a "surround system" that works for your institutional demographic and academic delivery modality.  A system that truly optimizes the technology, while using the data it produces to deliver an experience that is student-centric and cost-effective, results-driven and readily adaptive.  The ongoing return, as well as the life-time value on investment will be worth it for both your students and your institution.
This article is written by Dr. Susan C. Aldridge, who currently holds the position of interim President at Thomas Jefferson University and has previously served as the President of Drexel University Online.
Defined by the Huron Consulting Group as "a holistic and data-informed approach that focuses on the entire student journey to ensure student success."