I'm not a car guy — a gearhead, as it were — but I understand the appeal. I am blown away by the specs of vehicles these days with the array of tech onboard to provide the driver and their passengers with comfort, safety and often unheard of luxury.
It's easy to see why people want the latest and greatest. Cars today offer a lot more to the consumer than even five years ago. But just because someone can drive a car off the lot in good faith doesn't guarantee they can always make the payments on their auto loan.
In February of 2022, the delinquency rate for subprime auto loans more than 60 days past due rose to 4.15%, the highest since April 2020 for loans packaged into asset-backed bond deals, according to Deutsche Bank. With the pandemic and  now inflation, even prime borrowers can fall behind in their auto debt and into delinquency.
Delinquencies are sure to increase more, given the growth of auto loan debt across the generations (see chart below).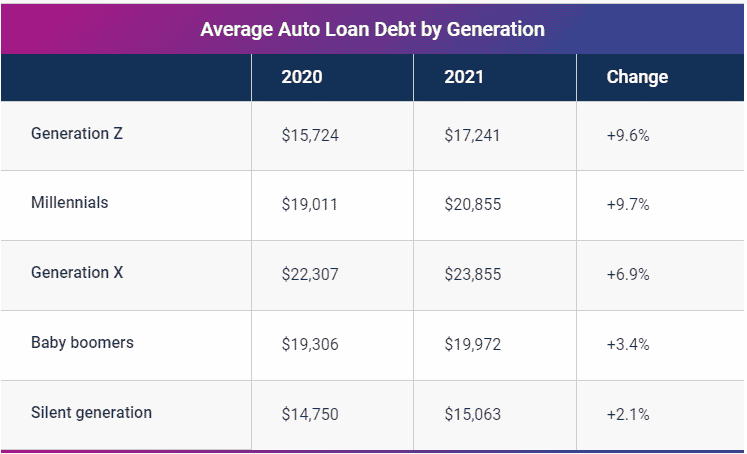 Average Auto Loan Debt by Generation
Consumers with overwhelming auto debt need to find their own way by refinancing, selling their cars or finding a way to pay up. Not easy options for anyone who is upside down in their loan. Plus, whatever deferred auto payment arrangement they were offered during the pandemic has disappeared or will soon go away.
With increased auto loan activity, deferred auto payments, and inflation, debt collection is on the rise. Imagine consumers who were so excited to take advantage of the array of options on their car, are less than excited when they start receiving unsolicited calls from auto loan debt recovery teams chasing payments. It's not a great stretch of the imagination to suggest the new car high would sink.
And it's here where a CX gap has developed, causing a jarring, potentially brand-damaging experience for consumers. Some collectors regard empathy in automotive debt collection process as overrated and believe only a harsh, cold-hearted approach works.
My experience speaks otherwise; empathy clearly opens the door to effectively navigating complex customer interactions. It lies at the heart of successful automotive debt recovery efforts that get you better returns and create loyal customers.
How consumers with auto debt delinquency are treated at this emotionally charged time can be the difference between losing a customer for life and giving them a reason to come back.
Auto loan servicers should manage the collections process by:
Engaging personally through a self-service omnichannel approach that combines automation, text and web support channels with inbound voice call support for consumers who prefer to talk with a live agent
Offering flexible payment options instead of inflexible payment demands
Focusing on CX driven by empathy as today's happy customers are likely to stay or return tomorrow
The right auto finance collections strategies are making it possible for manufacturers, dealerships, and automotive finance providers to deliver a premium collections experience for those customers who are struggling to pay down the balance they owe. From the moment a customer misses their first payment through to those people who end up in substantial arrears, creditors need to prepare a toolkit of solutions to support consumers the right way.
The result? Creditors can drive up the rate at which revenue is being received compared with more traditional collections models.
And in such a complicated market, that's a win-win for everyone.
No matter the size of your business, Firstsource's Digital Collections approach to Auto Loans helps you deepen customer engagement and collect better. Leverage AI- and Machine Learning-led omnichannel engagement customized to individual financial needs to boost customer experience and recovery.