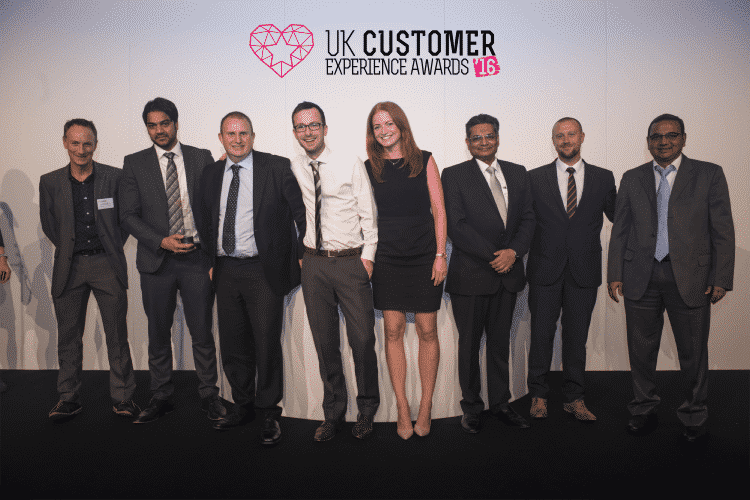 Firstsource Solutions, the UK's customer experience expert, has won gold in the Technology and Telecoms category for its work with NOW TV at this year's UK Customer Experience Awards. Firstsource also came in second place in the Engaging Customers Online category for its work with giffgaff, the mobile telephone network.
Now in its seventh year, the UK Customer Experience Awards celebrates and showcases the best in customer experience across a variety of sectors. Over 800 people attended the ceremony at The Park Plaza Westminster, London, which took place on the 23rd of September.
The win celebrates Firstsource's work with NOW TV to deliver top quality customer experiences, and recognises the recent implementation of solutions such as text analytics and team-leader led coaching to produce record-breaking customer experience metrics. This is the second year in a row that Firstsource and NOW TV have been recognised at the awards, following last year's win in the Transformation at the Heart category.
Firstsource's work with giffgaff was also celebrated at the awards ceremony. Having partnered with giffgaff since its launch, Firstsource has been instrumental in running a member service model that allows members to interact with one another to answer questions and find solutions.
Commenting on the awards, Shalabh Jain, President and COO, Customer Management at Firstsource Solutions, said: "As long-standing partners to NOW TV and giffgaff, the wins are testament to the dedication of our superb teams. We work our hardest to become a strategic and collaborative partner with our clients, so we're delighted that this has been recognised at the UK Customer Experience Awards this year."
Richard Thompson, Head of Customer Operations at NOW TV, added: "We're delighted that our partnership with Firstsource has delivered award-winning results. Together we have helped customers across the UK enjoy the TV they love, contract-free. With Firstsource's support we have been able to deliver exceptional customer satisfaction and most recently launch the UK's first ever contract-free triple play bundle, for which we will continue to give our customers a service of excellence they expect."
Adele Shaw, Head of Member Services at giffgaff, added: "Firstsource have supported our member support services since our launch, and have consistently ensured we deliver the best member experience possible. By working with Firstsource to develop our contact response system, we're thrilled to have been awarded silver at the UK Customer Experience Awards"
About NOW TV
NOW TV lets you watch the latest movies, TV shows, and live sport online. There's no contract, so you can dip in whenever you like. You can watch anytime, anywhere on the web or on over 60 devices with the app, like your tablet or mobile.
Sign up and start watching instantly, with a Sky Movies Month, Entertainment Month, Kids Month or Sports Day, Week or Month Passes. Add more passes at any time; however you can only have one Sky Sports Pass on your account at any one time.
NOW TV Combo 18+. UK only. NOW TV Network areas only. Combo renews until cancelled. And you may cancel at anytime if you are on the 'No Contract' saver option. A 12 month minimum term applies if you choose the 'Saver' option and you will need to pay an Early Termination Charge if you cancel during your minimum term. Broadband options available and speeds vary by location. NOW TV account and credit/debit card required. Find our call rates in the NOW TV Calls Tariff Guide. 16.9p connection fee applies to all non-inclusive calls to 01, 02 and 03. NOW TV's Access Charge (11.5ppm) and the owning operator's Service Charge applies for non-inclusive 0845 and 0870 numbers.
NOW TV Smart Box connects to TV via HDMI (cable supplied). Wi-Fi or Ethernet connection required. Digital TV aerial required to watch free to air channels live. Duration of pause and rewind available depends on location and selected channel. Month Passes renew automatically unless cancelled. Customers can stop renewal at any time.
About Firstsource
Firstsource, a RP-Sanjiv Goenka Group company is a customer experience expert and global provider of customised BPM (Business Process Management). Firstsource partners with brands including FTSE 100, Fortune 500 and Nifty 50 companies in the Banking, Financial Services and Insurance, Healthcare, Telecommunications and Media sectors. We operate in India, the Philippines, Sri Lanka, the UK and the US.
For more information, please contact
Isabelle.watson@firstlightpr.com
+44 7958 163 563