Firstsource Solutions, was among the 69 organisations celebrating Investors in People (IIP) accreditation at a presentation ceremony held at Belfast Castle on 20 September. Since 1991, Investors in People has set the standard for better people management. The Standard defines what it takes to lead, support and manage people well. Successful accreditation against the Investors in People Standard is the sign of a great employer who understands that it is people that make the difference. Organisations are judged to have achieved IIP standards based on a tried and tested methodology of leading practice and a rigorous process of assessment.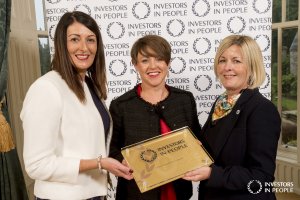 Pictured are Laura Hourican (SVP HR UK), Grainne O'Kane (GM HR UK) and Theresa McDermott from IIP
IIP Board Advisor Mark Huddleston, said: "The commitment to the Investors in People Standard by an organisation is demonstration to not only grow the business but more importantly grow the people also. The opportunity today to recognise what has been achieved by these organisations in Northern Ireland highlights the hard work and effort made to rise above the crowd and become a benchmark for people management and development excellence. The event today allows those businesses being recognised to celebrate the achievement of the IIP Standard and again recognise the benefits to be gained through the continued investment in the skills and effectiveness of the people within an organisation, whether large or small."
Commenting on the award, Laura Hourican, SVP HR UK at Firstsource Solutions, said: "We are exceptionally proud to be awarded the Investors in People gold accreditation and it is a strong testament to the work of the leadership team in Firstsource. The assessment findings demonstrate that people are at the heart of what we do for clients and that our business success depends on attracting the best people and enabling them to reach their potential."
About Investors in People
Investors in People makes people management excellence count. Through the respected standard, business insight and the IIP bank of tools and resources, organisations of all shapes and sizes can put their people first. Over the last 20 years, 100,000 businesses around the world improve, have used the Standard to boost working culture, increase engagement and encourage game-changing leadership.
Investors in People Northern Ireland is managed and delivered by the Investors in People Head Office. The Investors in People trademark is owned and managed by the UK Commission for Employment and Skills.
For more information about Investors in People please visit www.investorsinpeople.com
About Firstsource
Firstsource, a RP-Sanjiv Goenka Group company is a customer experience expert and global provider of customised BPM (Business Process Management). Firstsource partners with brands including FTSE 100, Fortune 500 and Nifty 50 companies in the Banking, Financial Services and Insurance, Healthcare, Telecommunications and Media sectors. We operate in India, the Philippines, the UK and the US.