Firstsource announces continued investment in UK at NASSCOM TechUK i2i ForumFirstsource Solutions, a leading, Indian-owned provider of business process management (BPM) services, has today announced the company's continued commitment to its extensive operations in the UK. Rajesh Subramaniam, CEO at Firstsource, made the announcement at the 2018 NASSCOM TechUK i2i Forum in the presence of both the UK prime minister, Theresa May, and Narendra Modi, prime minister of India.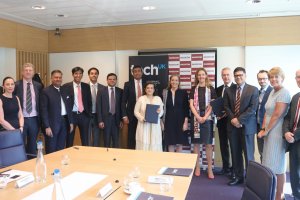 During his address at the event, Rajesh confirmed that the UK remains a key market for Firstsource's growth in 2018 and beyond. He also announced that the BPM provider plans to launch an Innovation Lab in London and Centres of Excellence for Banking, Sales and Services across the UK. The Innovation Lab will be home to the development of new digital technology capabilities that are designed to boost Firstsource customers' brand value.
In addition to this, Rajesh also announced that Firstsource plans to hire up to 1,000 people in the UK in 2018. These hires will take place across the country as Firstsource continues to deliver excellent customer experience and digital solutions for clients including Sky and giffgaff, as well as on-boarding new clients. Firstsource currently employs 5,300 people in the UK and opened two new centres last year – in Derby and Warrington.
Commenting on today's announcement, Rajesh said, ''In the UK we are operating in a radically different market to the one we opened our doors in, in 2001. Rapid advances in technology in particular have changed how British businesses work – and will continue to work in the future. The success that Firstsource has had in the UK is something that I am incredibly proud of, and something that we plan to continue long into the future. By continuing to invest in the technology we use and the people we employ in the UK I am confident that we will be able to help our clients meet the challenges on their horizons head on.''
About Firstsource
Firstsource, a RP-Sanjiv Goenka Group company is a customer experience expert and global provider of customised BPM (Business Process Management). Firstsource partners with brands including FTSE 100 and Fortune 500 companies in the Banking, Financial Services and Insurance, Healthcare, Telecommunications and Media sectors. We operate in India, the Philippines, the UK and the US.
(www.firstsource.com)
About Firstsource UK
Firstsource operates across eight locations in the UK.
In 2017, Firstsource added 2,900 new people to the Firstsource business.
One of Firstsource's largest clients in the UK is Sky. In 2017, after 15 years of working together, Firstsource and Sky expanded their partnership with a new ten-year deal. This deal saw Firstsource take on 1,200 new members of staff in the UK in two new centres – Derby and Warrington.
Firstsource is committed to the continuous upskilling and reskilling of its staff in the UK. Firstsource partners with Ulster University to give its employees the chance to combine work with study towards a degree in Customer Management.
Firstsource has won over 20 awards in the UK in the past two years, including gold at the UK Complaint Handling Awards and gold at the UK Customer Experience Awards.
For more information, please contact:
firstsourceteam@firstlightpr.com
+44 20 3617 7240