Customer service is now a major differentiator in competitive markets where brands strive to stand out from the rest, but some do it better than others.
There is change afoot at the top of UK business. Executive teams in some of the country's biggest brands are inviting a new skillset into the boardroom by appointing chief customer officers or CCOs.
Asda, Monsoon, House of Fraser and B&Q-owner Kingfisher have all announced hiring CCOs this year, signalling a real sea change in the C-suite.
"2016 is fast becoming the year of the chief customer officer," says Simon Hunt, director of customer experience at Firstsource Solutions. "The C-suite shake-up reflects the fact that many companies are facing growing pressure to put customer experience at the heart of their businesses. In an era of increased competition, the empowered consumer can and will demand more from the brands that they engage with."
Retail has the edge
These appointments show an obvious shift in priorities for big business. But looking at the names on this list, it's also clear this trend is being driven by retail companies – a fact that is backed up when you look at customer satisfaction statistics. The UK Customer Service Index (UKCSI) ranks industry sectors giving them a score out of 100, based on customer reviews, and puts retail – non-food followed by food – at the top of the league table, ahead of the automotive, leisure and banking sectors.
It seems there are a number of factors that have given retail the edge. The first is that of competition and ease with which consumers can drop one favoured retail brand for another.
"The grocery sector is one of the most fiercely fought and price alone is no longer enough of a differentiator"
"You can easily swap between retailers, so these brands have been fighting for our pounds for a lot longer than other sectors," says Nick Boxall-Hunt, sector manager at customer engagement company Rant & Rave. "For example, I was listening to a presentation from Amazon about how they are investing in one-hour and half-hour delivery promises, which goes above and beyond what you'll see in many others businesses and sectors."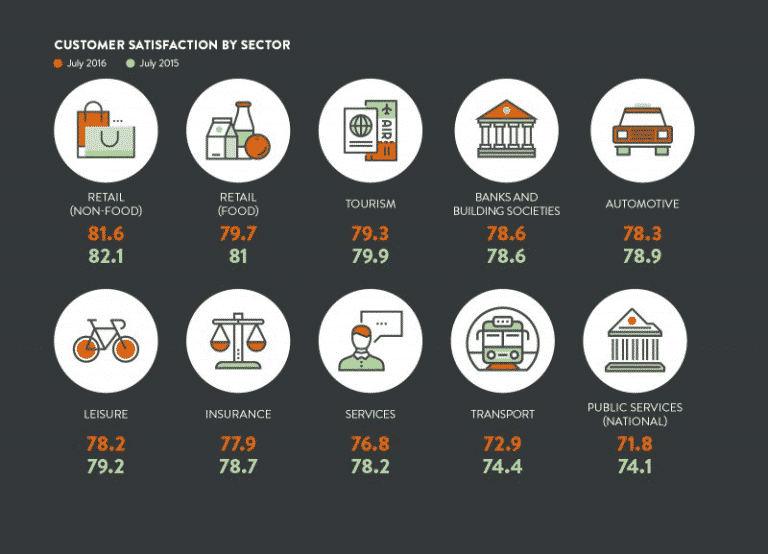 As one of the most innovative companies in the world, it's no surprise that Amazon is pushing boundaries when it comes to delivery and the company tops the UKCSI chart for customer service. But you'll also find some of the UK's traditional grocery brand names towards the top of the league table.
"Increased competition in the utilities sector from digital-first suppliers as well as consumers' increased willingness to switch suppliers are forcing a change in the sector"
"The grocery sector is one of the most fiercely fought and price alone is no longer enough of a differentiator," says Cheryl Flink, chief strategy officer for Market Force Information. "This means that retailers have had to up their customer service game in order to stay competitive, especially with the disruptive arrival of discount retailers such as Aldi and Lidl. That includes not only service, but keeping up with technology, with new apps, click-and-collect or home delivery services and a keen focus on providing competitive loyalty card benefits."
When you take that same reasoning about competition and look at some the rest of the sectors in the table, you can start to understand why the likes of utilities and telecoms might be further behind their peers in retail.
"It is easier for shoppers to demand more from brands in the 'commitment-free' retail and tourism sectors, where consumers can easily switch from one brand to the other depending on their needs," says Mr Boxall-Hunt. "In sectors such as telecoms and utilities, however, customers often sign up to long-term contracts. This has traditionally bred an attitude of the 'provider for life', where companies have relied on customers to stay with them out of habit and historically rested on their laurels when it comes to prioritising customer experience."
Things are changing, however, and increased competition in the utilities sector from digital-first suppliers, such as Utility Warehouse and Ovo, as well as consumers' increased willingness to switch suppliers are forcing a change in the sector.
"We've seen an increasing number of savvy consumers switching suppliers and, as a result, we've seen a real drive from providers catching up with retail companies, offering innovative new customer experience models to attract and retain customers, with customer satisfaction at the heart of their offering," adds Mr Boxall-Hunt.
 Emotionally positive experiences
Another important factor in the high performance of certain sectors is the experience that consumers tend to have when dealing with these companies. While retail, travel, leisure and automotive purchases tend to be enjoyable exchanges for customers, paying for council tax, energy bills and getting phone bills generally aren't.
"There's a higher tendency for retail purchases to be inherently emotionally positive, which has a direct impact on where customers choose to shop," says Mr Boxall-Hunt. "Consumers will often choose the shops that provide the experience they value, meaning the customer experience becomes self-selecting. However, in utilities, for example, the customer is less likely to value the experience as highly, and will choose a supplier based on more practical measures, such as price and availability, which are easily affected."
While retail and utility companies sit at opposite ends of the spectrum, the automotive and banking industries sit in the middle. Nissan's vice president of marketing in Europe Jean Pierre Diernaz explains why he believes the automotive industry is positioned where it is. "I think the sector has been doing OK. We do have one specificity in our business that has an effect – there is a dealership between us and the consumer, which adds another layer of complexity," he says.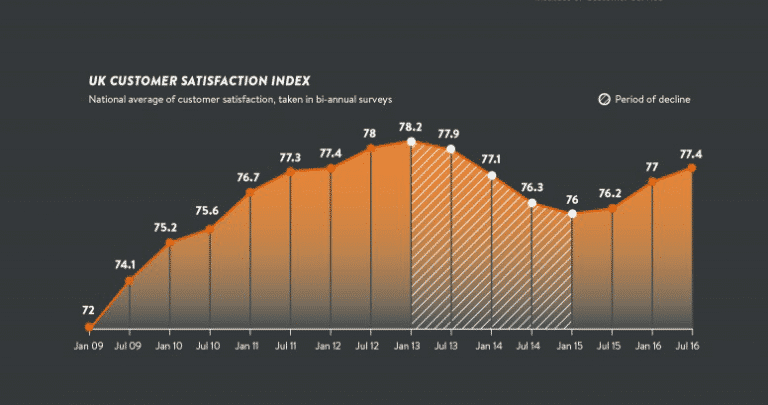 "Although the industry has been behind the pack, there has been strong acceleration over the last two or three years through digital tools, which help us to make our interactions with customers more direct and faster."
Although the brand loyalty is very strong in the automotive industry, Mr Diernaz insists this is not enough anymore. "This has always been a strong driver for purchases, but there is a strong correlation between customers repurchasing and a brand's ability to deliver good customer service. Brand loyalty is not enough – customer satisfaction becomes the true social currency for a brand."
One of the measures that Nissan is taking to prove its dedication to customer satisfaction is allowing its car owners to speak directly with potential buyers to answer their questions and let them know directly how the experience has been.
Banking affected
Much like the utility industry, banking is another area that has been affected by increased competition and customers are now actively encouraged to switch banks thanks to the government's Current Account Switch Service.
Newcomer Metro Bank has been quick to offer something different to those disgruntled with traditional banks. "Service starts and ends with culture," says Craig Donaldson, Metro Bank's chief executive. "Many other organisations talk about service as the veneer or paint around the edges, but for us our whole culture is about creating fans. A lot of our peers had lost their focus and having increased competition is good because it forces people to up their game."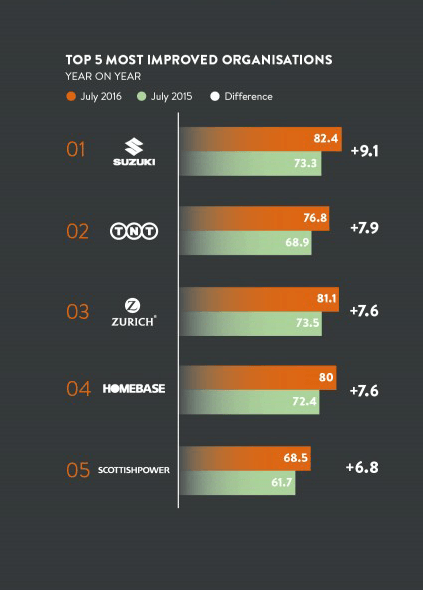 Looking at the history of certain sectors, it's clear to see how some have been performing better than others. But it's also interesting to see that businesses are sitting up and taking notice, and there is an increased focus on customer service across the board.
"Overall, we've seen the largest year-on-year increase in customer satisfaction levels since 2011," says Jo Causon, chief executive of the Institute of Customer Service. "Non-food retailers are leading the way in their approach to customer service, but it's also encouraging to see that other sectors are catching up."