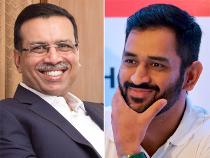 PL Pune boss Sanjiv Goenka defends the team's captain MS Dhoni, under scrutiny in recent times for temperamental behaviour and unusual tactics.
Mahendra Singh Dhoni's recent petulance over media questions and some of his tactics have intrigued cricket followers. On Monday, Sanjiv Goenka, owner of Rising Pune Supergiants, the new IPL franchise of which Dhoni is captain, gave some insight into his personality.
"He understands the psychology of the players, who will perform under pressure, who may not…It's not on whims and fancies," the chairman of RP-Sanjiv Goenka Group told ETPanache in his suite at a Mumbai hotel. "There is a plan behind every move of his. You may subscribe to it or you may not. I'm beginning to learn that as I deal with him." Goenka says he had a long meeting with Dhoni and the team's coach, Stephen Fleming, on Saturday, when they defeated Mumbai Indians in the tournament opener.
Two days after the win, Goenka looked relaxed, but conscious that there was still a long way to go for his team. He sipped cappuccino and nibbled on biscuits ("no cookies" he told his colleague) in the oceanfront suite as he gave interviews. He said beating Mumbai at home and in front of a partisan crowd was "morale-boosting". But there was work ahead. That is also what he told the team when he visited the dressing room after the match.
"I congratulated them and said that we should now consolidate."
Goenka's day started in Kolkata, with several fans wishing him at the airport. The scene replayed when he landed in Mumbai. He says, "T2 (terminal) is a huge walk, and six or seven people came up to me and said 'best of luck'. I didn't expect people to connect me to cricket. It was heartening."
Once at the Wankhede Stadium, though, Pune fans were in the minority. Even the emcee, it appeared, egged only the hosts on. But Goenka did not mind it.
"We saw almost no purple. We saw only blue," Goenka says. "But we didn't expect it to be any different."
In the VIP enclosure, however, the Pune team had many supporters. Goenka's son Shashwat and his wife Shivika were present. As was his industrialist brother Harsh Goenka. "It's always nice to have siblings around," Sanjiv Goenka says.
And he had his lucky charm. Asked what it was, he reaches into his right pocket and pulls out a picture of Lord Balaji. He's had it for a few years, and carries it with him even for important corporate meetings.
On another side of the box were members of the Ambani clan, who own Mumbai Indians. Asked if he and Mukesh Ambani met, Goenka says, "Yes, we met up." He celebrated the win with a dinner hosted by someone he deeply admires. Asked who it was, he says with a smile, "Take your own guesses.".