As published on NeConnected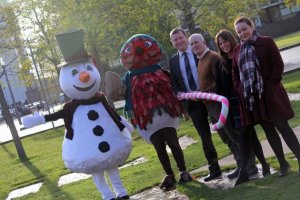 A MAGICAL Middlesbrough is in store for all as details of the annual festive programme – including the big Christmas light switch on – are announced.
Centre Square will once again be a hive of activity with a fun-filled day for all ages on Sunday, November 27, thanks to seasonal sponsoring from the Cleveland Centre and Firstsource Solutions.
Entertainment kicks off in the square from noon, with the popular Reindeer Parade, this year sponsored by Firstsource Solutions, starting at 3pm.
In the sleigh behind the reindeers will be the Cleveland Centre's popular "Signing Santa", who melted hearts across the world last year by using sign language with a young local girl with communication difficulties.
The regular community carnival will also be in full swing alongside the parade with hundreds of school children and community group members in stunning Christmas costumes as they parade through the town centre.
Meanwhile, the Christmas Lights Switch On, sponsored by the Cleveland Centre, will begin entertaining from 4pm in Centre Square.
Heart North East drive-time presenter Tom Campbell will play host and will introduce the popular Wildcats of Kilkenny playing live ahead of the big switch on.
Centre Square will also be playing host to a brand new Santa's Grotto – complete with a bubbling chimney – with Santa offering a traditional gift for every child.
Cleveland Centre Manager Graeme Skillen said "We're delighted to partner Middlesbrough Council for the Christmas Lights Switch On for the third year running. As an organisation, Cleveland Centre is committed to supporting positive community activity, so we're proud to be part of the event that, for many people, signals the start of festive activities in our area."
Firstsource Operations Manager Jo Vinton-Bullwinkel said: "Firstsource are a major recruiter in Middlesbrough, with an existing staff of around 300 people and massive plans to expand in the New Year."
"Sponsoring the Reindeer Parade is a great way for us not only give something back to the community, but also a fantastic opportunity to give something back to our staff, who's engagement has played a vital part in our recent success – without their hard work over the last year, the need to expand would not exist.
"Our staff and their families have been taking part in the workshops for the parade, it's been a great to get everyone together – we're all really looking forward to the parade and raising our profile in the local area."
Cllr Lewis Young, Middlesbrough Council's Executive Member for Culture, Leisure and Sport, said: "This is the biggest and best programme we've put together for Christmas and we'd like to thank our partners for their sponsorship.
"From our brand new Santa's Grotto, to the carnival and parade, lights switch on and live music from the Wildcats of Kilkenny, there is something for everyone at this festive event.
"It would be fantastic to see as many people as possible come along to Centre Square on November 27 but also to take a look at the wider Magical Middlesbrough Christmas programme as there is lots going on this festive season here in Middlesbrough."