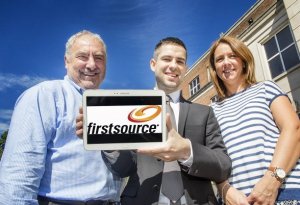 One of Northern Ireland's largest private sector employers, Firstsource Solutions is marking a record first year in its unique degree partnership with Ulster University.
The Customer Contact Management degree has attracted more than 280 employees worldwide and 134 in Northern Ireland to study, gain professional qualifications and cultivate careers within the company.
It is also the first degree of its kind in the world.
Laura Hourican Vice President – Human Resources UK, believes that the growing appetite for this qualification amongst staff offers more opportunities for personal career development within the contact centre industry.
"The degree is proving to be very popular with our teams especially in NI.
"It is encouraging to see this sector gain professional recognition, as we invest a lot back into the local economy each year, in addition to providing jobs for close to 2,000 people.
"The course is mainly delivered online and it reflects the changing nature of the customer contact industry, which now involves a range of high level, analytical tasks.
"Developing the skillsets of our people gives them a distinct advantage on the career ladder.
"As a business, this strategic partnership with Ulster University,also allows us to continue to provide a diverse range of expert services and deliver end results to each of our clients."
Firstsource is widely recognised as an employer committed to investing in its employees personal and professional development.
Modules on the degree include specialist resource planning, data analytics, using technology as well as wider business degree content such as leadership, financial planning, customer service and strategic planning.
John McClenaghan, an ACCM, is one local employee from Belfast who has benefitted from the degree with Ulster University Business School.
"Part of my personal development plan is to gain a degree so I'm very excited that I'm currently working towards achieving this goal of a recognised qualification.
"I've enjoyed completing year one of the degree and looking forward to getting stuck into year two modules."
The contact centre industry remains an important source of employment for Northern Ireland.
Firstsource has three sites across Belfast and Derry/ Londonderry employing close to 2,000 people and this degree is giving the sector a boost as well as dispel any myths surrounding long term careers within the industry.
Tim Moruzzi of Ulster University Business School and Programme Director said: "Ulster University is committed to equipping students with specialist skills to shape careers in emerging sectors in a global market.
"Working with Firstsource Solutions is one example of how Ulster University's Business School meets the growing needs of customer related industries worldwide, with a particular focus in this instance on the contact centre/BPO sector.
"This degree offers an online, part time learning opportunity designed to recognise both the profession and the professionalism of those involved, and to provide employers with the only university accredited programme available.
" We are of course delighted by the strong uptake in the first year of the partnership.
"We are also confident course participants will continue to develop personally as well as contributing to the Firstsource business and the wider industry sector."
The partnership between Ulster University and Firstsource was first developed through a relationship built with Invest Northern Ireland's International Business Team.