As Published By: NASSCOM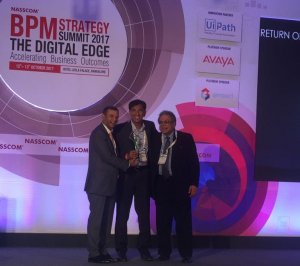 Firstsource Solutions has been awarded the prestigious Customer Service Excellence accolade in the ROI category at the NASSCOM Customer Service Awards.
The traditional customer service is shifting to a more value driven, innovative and hyper personalised service, with technology providing the platform for this shift. The last few years have witnessed remarkable amount of customer service innovations across all verticals with BPM Companies from India leading from the front. Companies are leveraging digital and disruptive technologies like Big Data/Analytics, Cloud, Mobility, IoT, AR/VR to transform or make a significant change in the way they service their customers, creating new revenue streams and new customer experiences. To showcase and recognize such innovations NASSCOM launched NASSCOM Customer Service Excellence Award-2017.
There are 4 categories of awards:
1. Co-Creation: Co-creation, the process where providers and the customers work together to create better ideas, products and services.
The joint creation of value by the provider and the customer; allowing the customer to co-construct the service experience to suit their context and establishing a holistic business function.
2. Transformation: Design, build and implement a transformational innovative solution which tracks end to end consumer journey through centralized and standardized operating models thus driving growth for the customer.
3. Return on Investment: Implement solutions which drives continuous improvement initiatives across processes enabling high business outcomes for the customer in terms of revenue enhancements, cost optimization and customer stickiness.
4. Process Improvement / Efficiencies: Enable future readiness with smart technology, operational agility, strong reusable analytical frameworks, introducing the next generation channel of consumer engagement thus ensuring process efficiencies and enhanced productivity and operational efficiencies across functions.
Firstsource Solutions has been awarded the Customer Service Excellence award in the ROI category for our relationship with one of our premium customers in the TV and broadband business. Firstsource have focused on providing agile solutions across channels through in-house development of sophisticated sales conversion technology, which standardised delivery of Sales through Service (STS) creating immense RoI for the client.