Remote patient monitoring (RPM) can help healthcare organizations succeed under performance-based contracts as care delivery moves to wherever the patient is. Implementing best practices is critical to successful remote monitoring and revenue capture.
A patient's location at any given time is rapidly becoming the center of the continuum of care—not the hospital or other facilities. That's true whether a patient is recovering from surgery or is managing a chronic health condition.  As this shift is underway, more payers and providers are entering value-based contracts, where patient and member satisfaction ratings carry substantial weight in defining a good outcome. In this dynamic environment, it's more critical than ever to avoid expensive hospital readmissions, emergency department visits and regulatory penalties.
Providers must also capture all the revenue due to them from delivering care at home and remotely. That takes new tools and strategies. Remote patient monitoring (RPM) links the hospital at home, improved performance, and optimized revenues. When implemented following best practices, RPM can provide the clinical and productivity data healthcare organizations need to improve outcomes and ensure they can succeed under performance-based contracts.
Remote patient monitoring defined
RPM enables healthcare organizations to tap into the wealth of data patients generate from their wearables and apps. It also encompasses specialized equipment a healthcare organization deploys in the home, from intelligent connected scales to sophisticated hospital-grade equipment. RPM enables healthcare organizations to use this data to coordinate care among multidisciplinary teams and help patients manage chronic conditions, such as congestive heart failure (CHF) and diabetes, for better outcomes and reduced readmissions.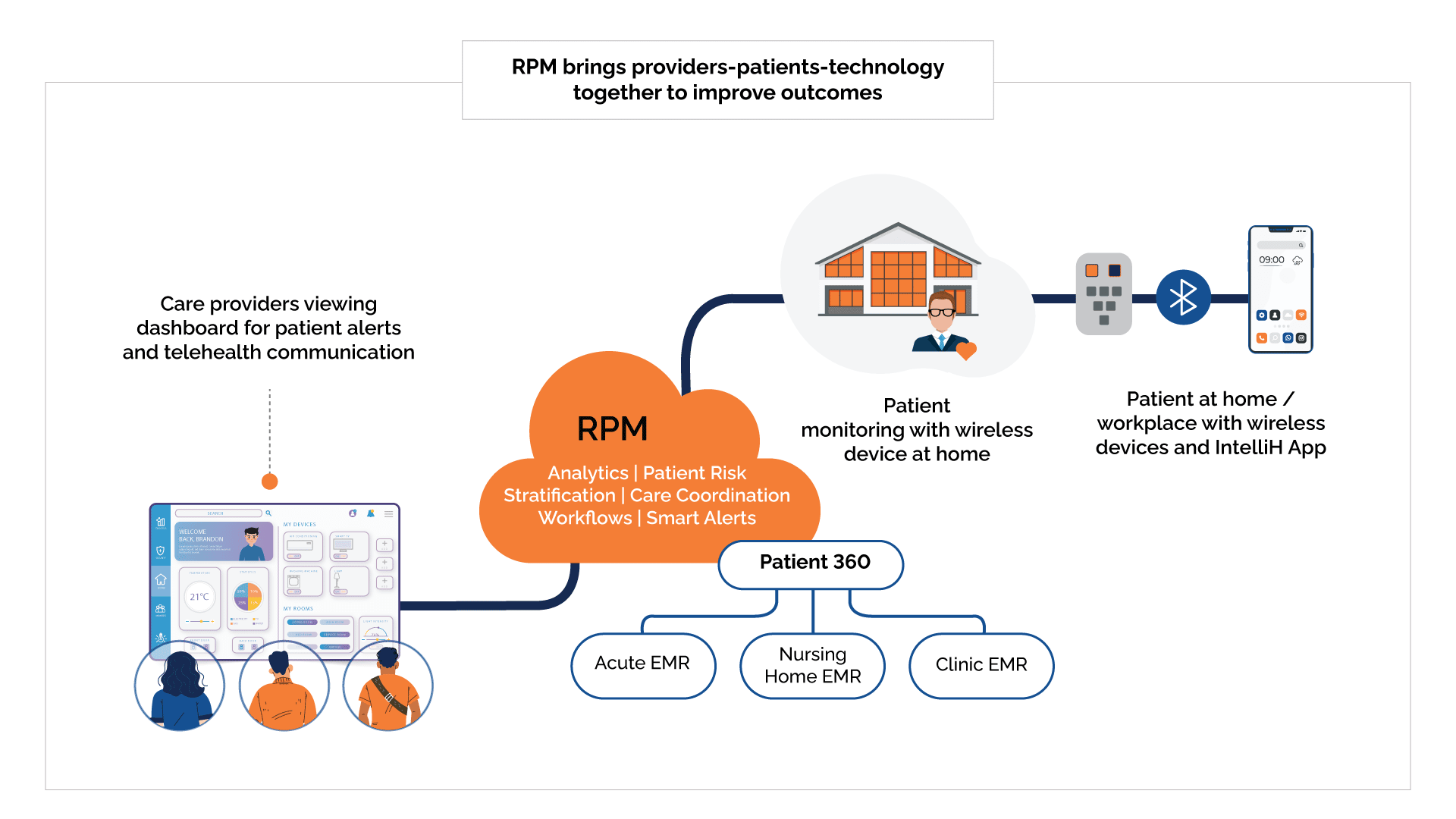 Achieving these results requires more than simply collecting data. To help ensure RPM improves patient satisfaction, clinical outcomes and revenue capture, organizations must ensure their solution supports the right capabilities and optimal clinical workflows to make the best use of patient data. Here are the best RPM practices we've identified in working with our clients.
(1.) Encourage patients to regularly measure and transmit disease-specific vitals
Under healthcare's traditional model, healthcare providers (HCPs) have only received data from patients during physical encounters. With RPM, they may systematically track all vectors influencing chronic conditions and see this data essentially on demand. To ensure patients consistently share their data, create a care coordination team dedicated to the remote patient monitoring program. Establish patient management protocols and escalation processes for virtual care. Gentle reminders and nudges encourage patients to regularly measure their vital signs, diet, activity and medicine intake. The protocols should trigger notices to and intervention by the care teams and caregivers when patients don't comply.
(2.) Customize alerts to clinician preferences
Overloading HCPs with data is not helpful. Most don't need or want to see every anomalous reading. The best practice is to enable them to define alert triggers and manage by exception, such as when patient data indicates an adverse trend or worsening condition. This reduces the number of false positives.
Alerts should be set and customizable at the patient as well as practice levels. For a patient with hypertension, an anomaly in his daily blood pressure readings could trigger a follow-up call or visit.
HCPs also can use alerts to see how patients are tolerating prescriptions, such as setting a range of acceptable blood sugar readings for a diabetic patient on a new insulin dosage. RPM and alerts also help HCPs monitor post-operative patients. By continuously monitoring temperature and having appropriate alert triggers, HCPs can take fast action to avert infections OR That capability can help avoid readmissions and potential reimbursement issues with payers.
(3.) Automated documentation features and integration with billing and EMR
RPM billing is based on a certain number of vitals transmitted from a monitoring device in a month as well as a defined amount of time interacting virtually with a patient in a month. In the value-based care world, manually entered data about patient interactions is not billable. The relevant CPT code requires device-submitted data. Healthcare organizations need systems that eliminate manual recordkeeping with automated data capture, such as tracking HCP call time by patient.
Minimize HCP keyboard time to maximize time spent with patients. The clinician or care manager should be able to create short notes about patients, aided with language prompts. The remote patient monitoring (RPM) platform should then generate a comprehensive note that adds context, such as drug adherence and monitoring results, when sending alerts to HCPs and for inclusion in the EMR. These capabilities help ensure HCPs work at the top of their licenses vs. becoming data entry clerks.
(4.) Intuitive clinical workflow options
Solutions must follow HCP logic and help them work smarter. Clear task lists and well-organized dashboards help HCPs manage patient loads, increase their productivity and job satisfaction and improve interactions with patients.  For example, the RPM solution should enable HCPs to create tasks, assign activities, set priorities, send emails, etc., all from its workspace instead of requiring HCPs to toggle in and out of different applications.  The system should also have built-in two-way communication to establish a trusting relationship with the patients being monitored. Chat, text and email capabilities are key to maintaining a comprehensive record and capturing billable interaction data.
(5.) Make it easy for patients to engage with monitoring solutions
Improve engagement by making patient data reporting easy. Use wireless options and automate reporting when possible. Provide visual options, such as enabling patients to upload photos of their meals. An intelligent RPM platform can encourage patients to record their vitals and take meds with step-by-step guidance and automated nudging and coaching.
(6.) Support multiple caregivers, including friends and family
Monitoring platforms that enable authorized caregivers, such as family members, to have their own version of the app helps create a circle of support around the patient and potentially better adherence. Incorporate members of multidisciplinary care teams so a care manager can easily bring them into conversations and communication strings.
(7.) Capture trends data for clinical decision support
Basing treatment decisions on trends in patient data can have a huge impact on cost, outcomes, and satisfaction. For instance, time of day can be an important data point. Physicians often prescribe higher dosages of medicine to control fluctuating blood sugar levels for diabetic patients. RPM data may show a correlation between blood sugar levels and a specific time of day or a meal. Armed with that data, the HCP may work with the patient to avoid prescription changes and recommend dietary, schedule or activity level changes to manage blood sugar. The remote patient monitoring (RPM) platform can then help the patient follow these changes.
How to Get Started with RPM
If your organization has hospital at home initiatives, care coordination and/or readmission reduction strategies, it should be considering how RPM can help these succeed.
One way to start is to identify an area to improve with remote patient monitoring (RPM). Clues about good candidates may be found in analyzing readmission rates for specific patient cohorts as compared to national averages; reviewing Press Ganey scores for problem areas; or looking for service lines that might have high percentages of chronic conditions that could benefit from remote monitoring. For example, an organization focusing on cardiology might have a high CHF patient volume. Care management teams could help identify post-discharge gaps in care and adherence issues.  Another factor is what infrastructure and IT support your organization has available to support RPM. Cloud-based software-as-a-service solutions should require only minimal effort from IT staff.
The key is to start. Many consumers already are equipped with devices that capture health information, and they want care that's as convenient as the other services they use. Healthcare organizations that want to remain relevant as care moves away from the healthcare campus must participate in that movement today. RPM and revenue cycle management (RCM), properly implemented, tie together care at home, quality outcomes and revenues. Organizations introducing comprehensive remote patient monitoring (RPM) solutions now will gain invaluable experience, capture, and potentially generate more revenue and increase their competitive advantage as hospitals expand their perimeters to the home The worst mistake would be to do nothing and risk becoming irrelevant as patient centric health care takes center stage.
Together, Firstsource and IntelliH deliver turn-key remote patient monitoring solutions that combine the IntelliH cloud-based, SaaS Advanced Remote Patient Monitoring Platform with Firstsource end-to-end implementation, customization, and user-support services.  For additional information, please contact Anurag Yadav (anurag.yadav1@firstsource.com), AVP Healthcare Solutions, Firstsource, or Meenaz Bachoo, MSN,MPH,RN,BSN (meenazb@intellihinc.com), Client Success Manager, IntelliH.